from The Ocean Wise Cookbook 2
Recipe is courtesy of Rob Feenie of Cactus Club Café: I love summer barbecues, and this salmon dinner is a family favourite. Here in British Columbia, we are fortunate to have one of the best steelhead farms in the world up at Lois Lake in Powell River. It has some of the most sound fish farming practices I have ever seen. At home, we serve it with the bell pepper and corn mixture, which can be presented both cold and fresh like a salsa or warm and cooked like a hash. You can also serve this versatile hash with other fish, as a salsa on sandwiches or as a dip with chips or vegetables.
Serves 4
Grilled Red Pepper and Corn Hash
Ingredients
2 ears of corn
2 tomatillos
2 tbsp (30 mL) extra virgin olive oil
2 tbsp (30 mL) finely chopped red onion
2 tsp (10 mL) minced garlic
2 red bell peppers, grilled, ½-inch (1 cm) dice
2 jalapeno peppers, seeded and finely chopped
Juice and zest of 1 lemon
½ cup (125 mL) chopped cilantro
2 tsp (10 mL) mustard seeds
1 tsp (5 mL) salt
½ tsp (2 mL) pepper
Directions
Place the ears of corn in a pot of boiling water for 2-3 minutes. Drain the corn, allow to cool slightlym cut off the kernels and discard the cobs. Grill tomatillos whole under a broiler or barbecue and dice when cool enough.
Heat a frying pan on medium-high heat and add olive oil. When oil is hot, add onion and saute until translucent, 5-6 minutes. Add garlic and cook for 2 minutes until fragrant. Stir in bell peppers and tomatillos and mix well. Reduce the heat to medium and stir in corn kernels, jalapenos, lemon juice, lemon zest, cilantro, mustard seeds, salt and pepper. Cook for 3-5 minutes to allow the flavours to combine. The hash will keep refrigerated in an airtight container for up to 2 days if you prefer to make ahead and serve cold as a salsa.
Marinated Barbecue Steelhead
Ingredients
2 tbsp (30 mL) extra virgin olive oil
2 tbsp (30 mL) fresh lime juice
Zest of 1 lime
2 tsp (10 mL) chopped garlic
2 tbsp (30 mL) chopped cilantro
1 tsp (5 mL) ground cumin
1 tsp (5 mL) chili powder
1 tsp (5 mL) salt
½ tsp (2 mL) black pepper
One 1 ½ lb (700 g) steelhead fillet, skin on and deboned
Instructions
In a small bowl, combine olive oil, lime juice, lime zest, garlic, cilantro, cumin, chili powder, salt and pepper and mix thoroughly.
Place steelhead skin side down, in a roasting pan and pour the marinade over top. Set aside to marinate at room temperature for 30 minutes.
Preheat the barbecue to 400F (205C). Remove fish from the marinade and place skin side down on the barbecue. Brush with any marinade remaining in the pan, then grill for 7-8 minutes, uncovered and without turning fish over, until medium rare or to taste. The fish is medium rare when it resists slightly when touched with your fingertip.
To Serve
Transfer steelhead, skin side down, to a warm platter. Allow it to rest for 5 minutes. Top with 2-3 tbsp (30-45 mL) of the red pepper and corn hash and spoon the remaining hash into a serving bowl to pass at the table. Serve family style, allowing guests to help themselves.
Pairing Suggestion: Tom Firth CedarCreek Platinum Pinot Noir Block 2
Nada's Tips & Tricks: I love hash and I love salmon so this recipe was perfect. If you don't like cilantro, use Italian (or flat) parsley. Can't find steelhead salmon? Use any firm salmon fillet – just make sure it's fresh to hold up to the heat.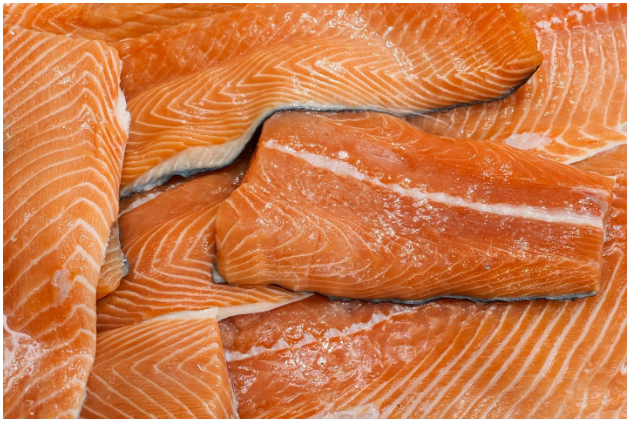 Cover image and Marinated Barbecued Steelhead with Grilled Red Pepper and Corn Hash recipe and photographs printed with permission from Whitecap Books Ltd. https://www.whitecap.ca/Detail/1770502386