from Mushrooming
A slight variation from your traditional stuffed mushrooms thanks to the people who know their fungi at Enviro Mushrooms! https://enviromushroom.ca/ 
Ingredients
King Oyster mushrooms 5 large
Butter 1 tbsp
Bacon 5 strips
Green onion 1/2
Salt Pinch
Black pepper Pinch
Olive oil 1 tbsp
Breadcrumbs 3 tbsp
Minced parsley 1/2 tbsp
Mozzarella cheese 50 g
Parmesan cheese 25 g
Method
Preheat oven to 425 ºF. Cut King Oyster mushrooms 3 cm in length. Slightly scoop out some of the insides of the mushrooms.
Finely chop the bacon, green onion, and onion. Heat a skillet on medium heat. Add olive oil and fry the bacon and onions.
Add salt and black pepper to taste. Set is aside in a small bowl. add breadcrumbs and parley and mix together.
Fill the mushrooms with the mixture and top it with mozzarella cheese. Place on a cookie sheet and bake for 7 to 8 minutes.
Take them out of the oven and sprinkle with Parmesan cheese.
Nada's Tips & Tricks: I LOVE stuffed mushrooms so changing up the type of mushroom elevates the presentation. I would add a little heat to the mix – I like things a little spicy!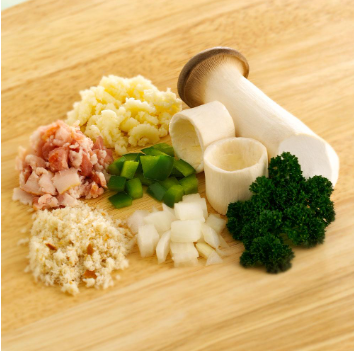 Contents and images used with permission by Enviro Mushrooms. https://enviromushroom.ca/king-oyster-cheese-poppers/