from Eat More Plants
Mexican grilled corn? That seems like a fun idea. Never mind the fact that using sweet corn isn't really authentic. Because it's damn good. Seriously. Just you wait…this is so good you will want to eat all four cobs. Forget sharing.
Why I never thought to slather corn in mayo is anyone's guess. Because I love mayo. I am one of those french-fries-and-mayo girls. And, the vegan versions of mayo don't suck.
This corn will take your BBQ side game to the next level. Don't get skittish about the mayo. Just mix up the sauce, slather it on freshly grilled corn and watch people go nuts. Serve this alongside my beet and black bean burger and you have now mastered the plant-centred BBQ. You're welcome.
INGREDIENTS
4 cobs of fresh sweet corn, de-husked and de-silked
3 tablespoons mayo
2 teaspoon lime juice
1/2 teaspoon Mexican chili powder
1/2 clove garlic, crushed (1/8 teaspoon)
pinch of cumin
pinch of cayenne pepper
salt, to taste
4 lime wedges for serving
1/2 cup cotija cheese or feta cheese for serving, if not vegan
INSTRUCTIONS
Grill corn on a screaming hot BBQ until lightly charred on all sides.
Meanwhile, stir up the sauce in a small bowl and salt to taste.
Place grilled corn on a serving dish and slather with sauce. Sprinkle with cheese if using and serve with a lime wedge…and a smile.
Nada's Tips & Tricks: Now that corn season is upon us, you'll want to elevate this popular side – it's so good!  I tested the recipe when there was a foot of snow on the back deck and it works perfectly on the stove and in the oven. I parboiled the corn and finished them off in the oven to give them a roasted flavor.  Just a few extra ingredients and you have a whole new accompaniment.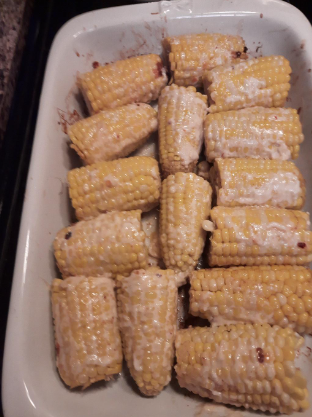 Excerpted from Eat More Plants by Desiree Nielsen. Copyright © 2019 by Desiree Nielsen. Published by Penguin an imprint of Penguin Canada, a division of Penguin Random House Canada Limited. Reproduced by arrangement with the Publisher. All rights reserved. https://desireerd.com/insanely-good-mexican-grilled-corn-elote/