from Cooking with Bear
Bear thanks Squirrel for sharing her hazelnuts. He knows she'll love these fudgy,
nutty cookies.
Ingredients
½ cup butter
½ cup brown sugar
¼ cup white sugar
1 egg
¼ tsp vanilla
1 cup and 2 tbsp flour
½ tsp baking soda
¼ tsp salt
1 cup semi-sweet chocolate chips
½ cup hazelnuts, coarsely ground *
Directions
Preheat oven to 375 degrees F.
In a mixing bowl, using a wooden spoon or hand mixer, cream together the butter and sugars.
Add the egg and vanilla and beat or stir until well blended.
In another bowl, mix together the flour, baking soda and salt.
Add the flour mixture to the creamed mixture and stir until it is well combined.
Mix in the chocolate chips and hazelnuts.
Drop rounded 1 tbsp portions of dough, 1 inch apart, onto an ungreased cookie sheet. (For easier clean-up, use a cookie sheet lined with parchment paper.)
With an adult's help, bake in oven, for 8 to 10 minutes, or until the cookies are golden brown.
Cool slightly, then enjoy!
Makes about 2 dozen cookies. * Ask an adult to help you grind the nuts in a blender or food processor, pulsing them for a few seconds at a time until they are a coarse grind. (You can substitute other nuts, such as walnuts or pecans, if you prefer. And if you like nut-free cookies, simply leave out the nuts.)
"Reproduced with permission from Groundwood Books Ltd. All rights reserved." https://houseofanansi.com/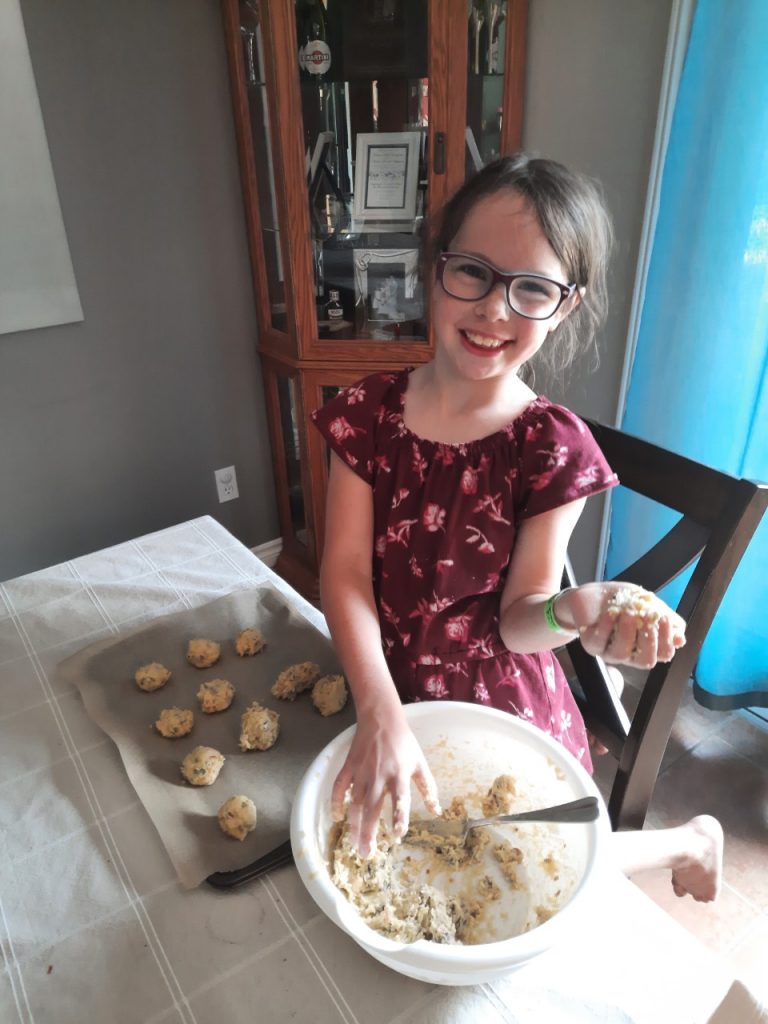 Nada's Tips and Tricks: I put the nuts in a zipped plastic bag and got Lilyanna to pound the bag with a meat cleaver… she thought it was so much fun! These cookies were gone in minutes – delicious!