from German Meals at Oma's
Serves 4
It was so common to go into Oma's kitchen and find jars and jars of green beans from her garden filling the pantry. Turning these into absolute deliciousness required only a few extra ingredients, which were readily available (especially on the farm): herbs, butter and cream. The word gestovte is a plattdeutsch (low German dialect) word meaning "the dish has a sauce made with butter and flour."
The beans were often called schnippelbohnen (snipped beans), indicating that they were cut in very small pieces. In fact, one can still buy a bohnen-schneider (bean-cutting machine) just like Oma used. This allowed older and tougher beans to be used and still become tender in cooking. Today, frozen beans replace the home-jarred ones, but there's not much that can replace the richness that the cream provides.
Ingredients:
Boiling water, as needed
1 tsp salt, plus more as needed
11⁄2 lbs (680 g) frozen green beans
3 tbsp (45 g) butter
3 tbsp (24 g) all-purpose flour
1 cup (250 ml) heavy cream (see Oma's Ecke)
1 cup (250 ml) milk, or as needed
Pinch of sugar
Freshly ground black pepper, as needed
1 tsp dried summer savory
4 tbsp (10 g) finely chopped fresh parsley, divided
In a medium saucepan, bring 1 inch (2.5 cm) of water to a boil over medium-high heat. Add the salt and the green beans. Cover and cook until the beans are tender, about 3 to 6 minutes. Drain the green beans and put them in a medium bowl.
Melt the butter in the same saucepan over medium heat. Whisk in the flour and continue stirring until the roux is smooth, about 1 minute, but do not let it brown. Whisk in the cream until the sauce is smooth, adding as much milk as is necessary to get to a creamy, thick sauce. Simmer for 5 minutes, stirring occasionally. Season the sauce with the sugar, salt, pepper and summer savory. Add 2 tablespoons (5 g) of the parsley. Gently stir in the green beans and reheat them for 1 minute in the sauce.
Serve the Gestovte Bohnen garnished with the remaining 2 tablespoons (5 g) of the parsley.
Oma's Ecke
Instead of using cream, you can replace this with all milk, vegetable broth or the water that the beans were cooked in. Freshly grated nutmeg is a nice addition either with or instead of the summer savory. To add even more flavor, fry some diced smoked ham in a bit of butter and add that to the finished beans. This sauce is used throughout this area for other vegetables as well. Peas and carrots, kale, turnips, potatoes, lentils, cabbage and mixed vegetables are just a few options. Try your own combinations and see what your favorites are.
Reprinted with permission from German Meals at Oma's by Gerhild Fulson, Page Street Publishing Co. 2018. Photo credit: Toni Zernik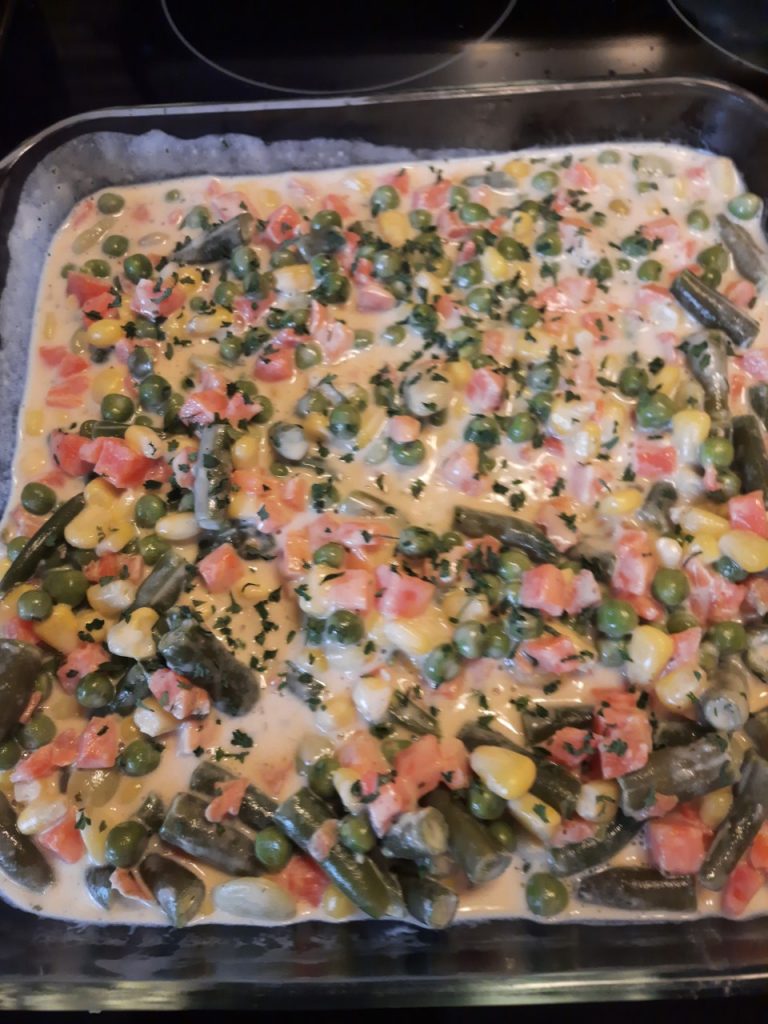 Nada's Ecke:
We had mixed vegetables in the freezer and this recipe worked well with them – really, any vegetable would work. Everyone loved this comfort food – you can't beat the homemade white sauce that makes everything feel warm and cozy!