from Flat Out Delicious
This classic Dijon is smooth, vibrant and adds the perfect tang to sandwiches, vinaigrettes and sauces.
INGREDIENTS
3 TBSP finely chopped onions
1 TBSP minced garlic
1 tsp chili powder
1 TBSP Worcestershire sauce
2 TBSP honey
½ Cup ketchup
½ Cup red wine vinegar
1 TBSP Gravelbourg French Mustard
½ Cup canola oil
Salt and pepper to taste 
Mixed Greens
Fresh peaches, sliced
DIRECTIONS
Add all ingredients to the Gravelbourg Mustard cruet and shake well until incorporated. If you don't have a cruet, add all ingredients to a bowl and whisk together.
Serve over your favourite blend of mixed greens and sliced peaches. Add other ingredients to make your salad unique!
Dressing can be stored in the refrigerator for up to 2 weeks. Shake well before eac
Nada's Tips & Tricks: I LOVE peaches and have made variations of this recipe but the Gravelbourg French Mustard elevates the flavour profile in this one. Sweet and tangy – the perfect combination!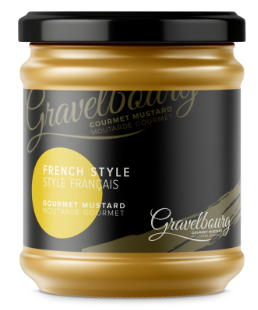 Contents and images used with permission by Gravelbourg Mustard. https://gravelbourgmustard.ca/