from Tunes and Wooden Spoons
From my dear late friend, Ethel Chisholm
Bowl # 1
4 eggs
2 cups sugar
1 ¼ cup vegetable oil
1 can pumpkin pie filling (540 ml)
Beat with electric beater until well combined. Set aside.
Bowl # 2
3 cups flour
3 tsp. cinnamon
1 tsp. allspice
1 tsp. mace
2 tsp. baking soda
2 tsp. baking powder
½ tsp. salt
Mix dry ingredients together. Pour into pumpkin mixture and beat with electric beater.
Optional Add-ins:
1 cup chopped walnuts
1 cup raisins
1 cup chopped pecans
Stir in optional add-ins.
Pour batter into two 9×5 loaf pans that have been lined with parchment paper. Feel free to sprinkle some chopped walnuts, pecans, or pumpkin seeds over the top.
Bake at 350 for about an hour – test with cake tester and may need 10 minutes more. Cool on cooling rack.
Serve with a swipe of butter or leave as is. Delicious. This recipe can be cut in half or take Mary Janet's Pumpkin Loaf Challenge – KEEP ONE LOAF AND GIVE SECOND PUMPKIN LOAF TO SOMEONE ELSE WHO WOULD LOVE IT
Nada's Tips & Tricks: I added pumpkin seeds and it was delicious. Dense but a great breakfast loaf with a dollop of butter. Want to get fancy? Add a cream cheese frosting for a dessert loaf. Happy Halloween!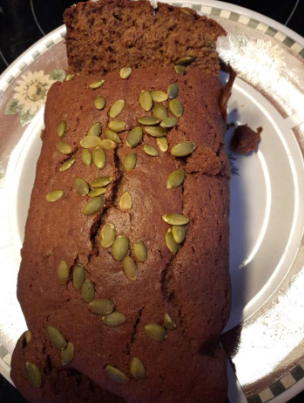 Contents and images used with permission by McIntyre Purcell Publishing. https://www.macintyrepurcell.com/books/non-fiction/tunes-and-wooden-spoons-detail