from The Sister's Tale
Here is the cookie recipe that we used for the book launch of The Sister's Tale. We had a team of volunteer bakers, and gave out a bag of cookies with every book purchase. I decided to make these because the cook, Ellen, in The Sister's Tale, makes molasses cookies, and they were very popular in 19th c. Maritime homes.
350 degrees F
11 minutes
Ingredients
2 c. unbleached all purpose flour
1 tsp baking soda
1/2 tsp salt
2 tsp ground ginger
1 1/2 tsp ground cinnamon
1/4 tsp ground cloves
1/4 tsp ground nutmeg
3/4 c. butter
3/4 c. light brown sugar
1/4 c. molasses
1 large egg yolk
2 tsp vanilla extract
1/4 c. granulated sugar
Directions
Preheat oven. Line cookie sheets with parchment paper.
Whisk together dry ingredients. Set aside.
Blend butter and brown sugar until well combined.
Mix molasses, egg yolk and vanilla into butter/sugar mixture.
Add flour mixture and stir until combined.
Shape dough into balls the size of golf balls. Roll each ball in sugar. Place on sheets about 2" apart.
Bake one sheet at a time in preheated over 9-11 minutes until cookies are puffed and appear slightly under baked.
Content and images used with permission by author, Beth Powning. https://www.powning.com/beth/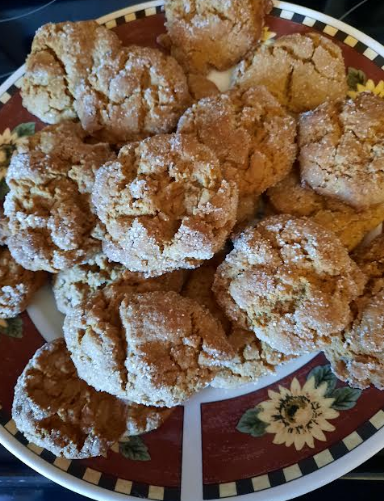 Nada's Tips & Tricks: Well these cookies didn't last very long in our house! A big hit with everyone. Keep a close eye on the cooking time…do take them out of the oven when slightly under done. They harden up as they cool.