from Lawrence Hill
I make cornbread a few times a year for the people I love. I seem incapable of following a recipe, but since I have made many adjustments over the years, I do follow it now. I love it because: a) I have not tasted better cornbread; and b) it reminds me of my paternal grandmother May Edwards Hill, 1896 – 1985, who gave me the recipe.
Mix these dry ingredients:
1 cup flour
1 cup cornmeal
3 tsp baking powder
½ tsp salt
1 tsp cinnamon
Dash of nutmeg
1 tbsp brown sugar
Mix these wet ingredients:
1 ¼ cups milk or light cream
1 or 2 eggs (I prefer 2)
1 dollop plain unsweetened yogurt
½ tsp vanilla
½ cup oil
¼ cup maple syrup
Blend wet and dry ingredients, pour into greased pan. Bake at 375F for 5 minutes then 350F for 25 minutes. Test with fork tines after a total of 25 minutes in the oven. Avoid overbaking. If you double the recipe, bake 10-15 minutes longer and use three eggs instead of two.
Leftovers: The ancient sages advise doubling this recipe for leftovers. Slice the leftover cornbread in half. Cover with butter or margarine. Broil in the oven for a couple of minutes. Watch out: it burns easily! Don't you dare incinerate this bread.
Content and images used with permission by Lawrence Hill and Caroline Hill. Photo credit: Caroline Hill @bluehilllz https://www.lawrencehill.com/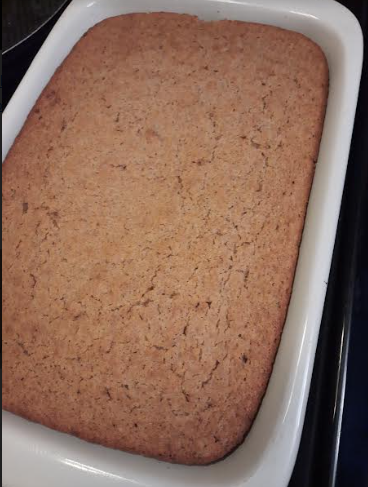 Nada's Tips & Tricks: This is a sweetened version of cornbread (you can adjust the sweetness by lowering the maple syrup amount). The family gobbled it up – even the leftovers were gone before they were leftovers so didn't test the last instruction. Guess I'll have to make it again!