by Bev Penner of Prairie Oils & Vinegars
Ingredients:
8 c. peeled and sliced apples
1 c. flour
1/2 c. brown sugar
1/2 c. white sugar
2 sticks butter, cubed
4 Tbsp. Cinnamon Pear Balsamic (or a little more to cover)
2 Tbsp. Butter Olive Oil
1 tsp. cinnamon
Instructions:
Peel and slice apples. Pour the Butter Olive Oil into the bottom of a 9×13 pan to coat bottom and sides. Arrange apples in pan to cover bottom evenly. Sprinkle cinnamon over apples. Drizzle the Cinnamon Pear Balsamic over all.
In a separate bowl, mix in the cubed butter with the sugars and flour until topping resembles coarse mixture with small lumps. Sprinkle topping mix evenly over the apples.
Bake at 375F for 45 minutes until brown and bubbly. Serve warm with vanilla ice cream.
Try with any of your favourite Balsamic Vinegars to create a new flavour of crisp!
Images and content used with permission by Prairie Oils & Vinegars.  https://prairieoils.ca/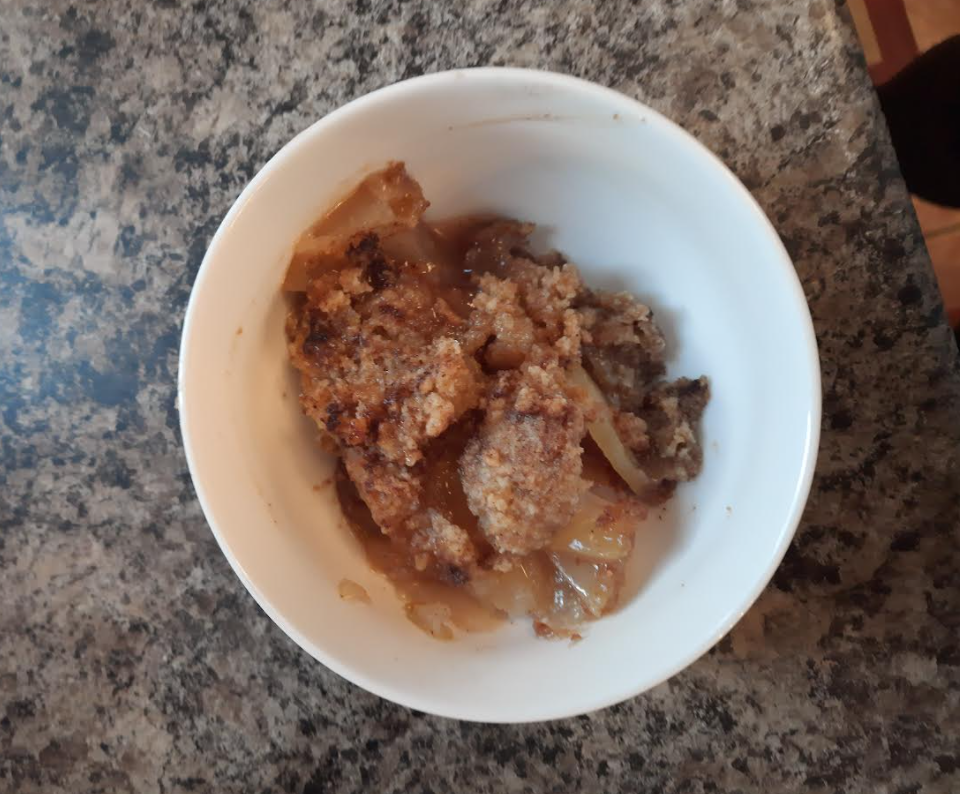 Nada's Tips & Tricks: I've made many crisps but I've never added balsamic vinegar to them…so this was a first and it was pretty good. I added pears to the apples to add a little fall flavour. Someone ate all the ice cream so alas we didn't have any to go with this crisp – it would have made the perfect dessert!