from The Big Book of Jo's Quick & Easy Meals
If you're looking for a quick yet mouthwatering dish loaded with chicken and mushrooms in a smooth, rich and creamy sauce, look no further: This is an easy recipe that comes together in just 30 minutes! https://www.jocooks.com/
Prep time: 10 minutes Cook time: 20 minutes Total time: 30 minutes Serves: 4
Ingredients
1 tbsp (15 ml) olive oil
1 lb (448 g) boneless, skinless chicken thighs, cut into 1″ (3-cm) cubes (see Recipe Notes)
½ tsp salt, plus more as needed
¼ tsp black pepper, plus more as needed
1 onion, chopped
2 cloves garlic, minced
12 oz (336 g) white button mushrooms, halved ½ cup
(120 ml) white wine (I recommend sauvignon blanc)
1 cup (240 ml) low-sodium chicken broth
2 tbsp (6 g) chopped fresh dill, plus more as needed
½ cup (60 g) sour cream
2 tbsp (30 g) unsalted butter
1 tbsp (8 g) all-purpose flour
Cooked rice, cooked pasta, Mashed Potatoes (page 383) or Creamy Polenta (page 388), for serving.
Directions
Heat the oil in a large skillet over medium-high heat. Season the chicken with the salt and black pepper. Add the chicken to the skillet and cook it for about 5 minutes, until it is no longer pink.
Add the onion and garlic and cook the mixture for 2 minutes, until the onion is soft. Add the mushrooms and cook the mixture for 5 to 7 minutes, stirring it occasionally, until the mushrooms soften and are golden brown.
Stir in the white wine and broth. Bring the mixture to a boil. Add the dill and sour cream and stir to combine the ingredients. Add the butter and stir it into the mixture until it melts.
Transfer ½ cup (120 ml) of the broth from the skillet to a small bowl. Add the flour and whisk to combine it with the broth.
Pour this broth-flour mixture back into the skillet. Stir the sauce well and let it simmer for 5 minutes. Taste the sauce and adjust the seasoning with additional salt and black pepper as needed.
Garnish the chicken with additional dill (if desired). Serve the chicken and sauce over cooked rice, pasta, Mashed Potatoes or Creamy Polenta.
Recipe Notes: You can use chicken breasts or drumsticks if you prefer. This recipe will work for any type of cubed protein you like. Or it can be made vegetarian by omitting the meat and using extra mushrooms. Swap out the chicken broth for vegetable broth. I used white button mushrooms in this dish, but you can use whichever type you like most. Hardier varieties like cremini work best
Reprinted with permission from The Big Book of Jo's Quick and Easy Meals by Joanna Cismaru, Page Street Publishing, Co. 2021. Photo credit: Joanna Cismaru https://www.pagestreetpublishing.com/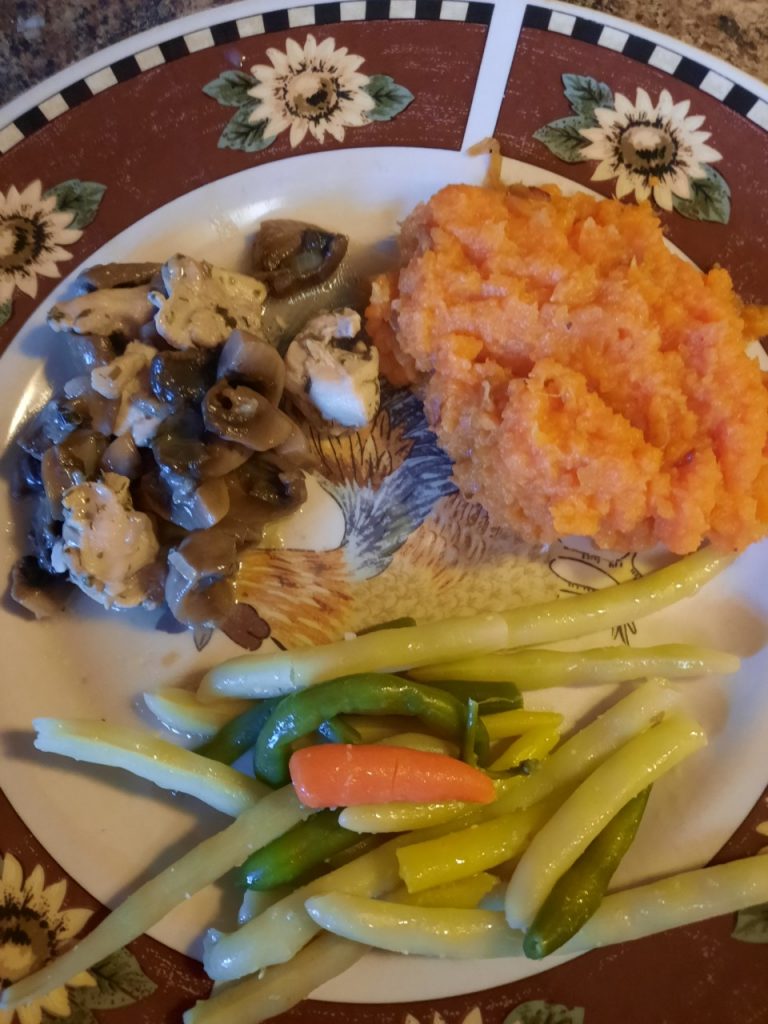 Nada's Tips & Tricks: We love mushrooms in our family so I put a ton of them in this recipe. Used the leftovers for the base of a creamy chicken & mushroom soup the following day. And if you're looking for some funky mushrooms to include in this recipe, go to our Canadians + Food segment to discover "Happy Caps"!