from Chiamigos
Ingredients
1/3 cup (50g) Chiamigos Chocolate Banana Nut pudding mix
1/3 cup (50g) plant-based milk or water
1 banana, sliced
1/4 cup (<14g) coconut whipped cream (purchased or homemade)
2 strawberries, sliced
1 tablespoon almond butter
Sprinkle cocoa nibs
Preparation
Mix the chia pudding according to package instructions, set aside.
Slice the banana and strawberries.
Layer the chia pudding, bananas and coconut whipped cream, finishing with chia pudding layer on top.
Place your strawberries, remainder of banana, and a dollop of coconut whipped cream on your pudding. Finish it off with cocoa nibs and a drizzle of almond butter.
Devour!

Nada's Tips & Tricks: So much goodness in this recipe proving that you can enjoy your favourite indulgences while still eating healthy. I promise you won't miss the traditional ice cream version. A big win! And then play around with the ingredients and come up with a ton of variations…great way to use up bits of nuts, dried and fresh fruit.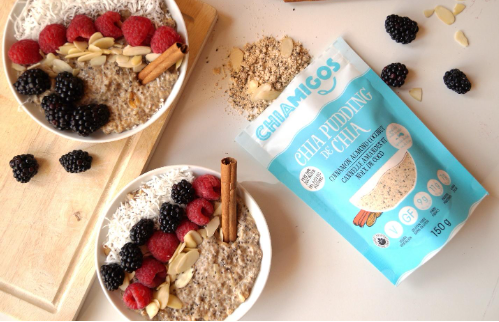 Contents and images used with permission by Chiamigos. https://www.chiamigos.com/blogs/recipes