from Spoil the Dog
Ingredients:
4 cups warm water
1 cup sunflower oil
1/2 cup carob powder
1 tablespoon vanilla
1.5 cups Peanut Butter (no xylitol)
6 cups quick oats
6 cups rice flour
Dissolve peanut butter and carob powder in warm water with a large whisk. Add in sunflower oil and vanilla. Slowly mix in oats and then rice flour.
Roll out until about 1/4″ – 1/8" thick and cut into shapes.
Bake at 300 F for about 30 minutes. Cool and treat your canines.
Notes:
Some peanut butter contains xylitol (mostly U.S.A. brands) which is lethal to dogs. Check the ingredients carefully.
Carob powder can be found in most baking supply stores. Rich in vitamins and health benefits, Carob doesn't contain Theobromine, which is the dangerous chemical for dogs, in chocolate.
We use Dollar Store cookie cutters to make treats for every season.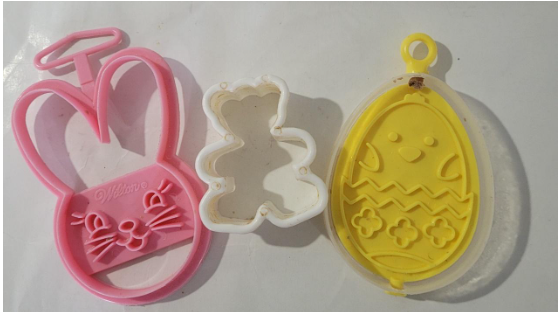 Nada's Tips & Tricks: Easy to make – your puppy will love this treat. Don't want the fuss with making it? Purchase the ready-to-chew treats at https://spoilthedogbakery.myshopify.com/
Contents and images used with permission by Spoil the Dog. https://spoilthedogbakery.myshopify.com/