from Buckwheat
Delicious on their own or as a side dish or as a really funky veggie burger served in a bun with your favourite sauce and toppings.
Serves 4
Preparation time: 45 minutes
Ingredients
1 cup (250 mL) buckwheat, raw 
½ cup (125 mL) zucchini, shredded
1 egg
1/3 cup (75 mL) flour
1 tsp (5 mL) salt
½ tsp (2.5 mL) nutmeg
2 tsp (10 mL) ground black pepper
3 tbsp (45 mL) vegetable oil
1/3 cup (75 mL) sour cream
Directions
In a medium saucepan, cover buckwheat with 2 cups of water and simmer on medium heat until all water is absorbed and buckwheat is tender. Remove saucepan from heat and cool the buckwheat to room temperature.
In a large bowl, combine buckwheat, zucchini, egg, flour, salt, nutmeg and black pepper. Mix everything together to obtain sticky batter.
Heat the vegetable oil in a large skillet or frying pan and spoon the batter to form several fritters at a time. Cook both sides, about 5 minutes per batch.
Serve hot with a dollop of sour cream.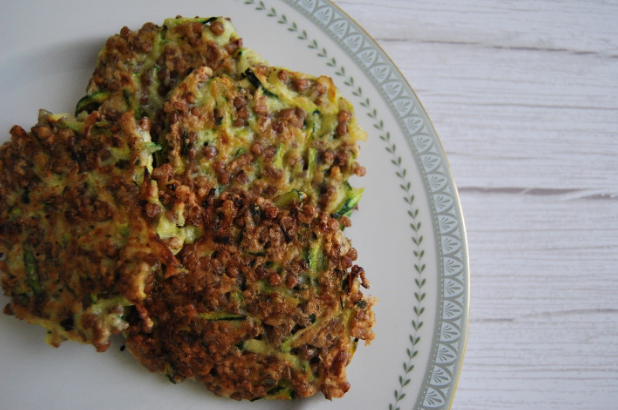 Nada's Tips & Tricks: The family loved these fritters and for many of them were introduced to buckwheat for the first time. We used it as the side to a chicken dish but I will be making them as a patty for a vegetarian burger this summer!