from A Piece of Black Cake for Santa
An intensely dense and aromatic cake made with dried mixed fruit. Most people start soaking the fruit months in advance for a real, full-bodied Caribbean flavour. Also known by the name Caribbean Fruit Cake. Black cake originated from the British plum pudding.
Dear readers: cooking as a family creates special memories. Here is a recipe by a good friend of mine, Monique Creary, Educator and Owner/Culinary Instructor of Now You're Cooking. Please remember there should always be an adult present when children are participating in cooking activities. https://nowyourecooking.ca/
Ingredients
For the fruit mixture:
1 cup grape or cranberry juice
1 cup raisins
¼ cup dried cranberries
¼ cup glace fruit mix
For the cake batter:
½ cup unsalted butter, softened
½ cup packed brown sugar
2 large eggs, room temperature
1 Tbsp lime juice
1 tsp lime zest
1 tsp mixed essence
1 tsp vanilla extract
4 Tbsp browning
1 ¼ cups all purpose flour
1 tsp baking powder
1 tsp cinnamon
¼ tsp nutmeg
½ tsp mixed spice (or pumpkin pie spice)
¼ tsp salt
Directions
To soak the fruit: Bring the juice and fruits to a boil in a medium saucepan. Reduce heat and simmer uncovered for 30 minutes. Remove from heat.
Place the macerated fruits and juice into a blender and pulse for a few seconds until the paste is your desired consistency. Set aside and allow to cool.
To make the cake: Preheat oven to 300F (150C). Grease an 8-inch cake pan and line the bottom with parchment paper.
In a large bowl, cream together the butter and brown sugar with an electric mixer until smooth.
Mix in eggs, one at a time. Add in lime juice, lime zest, mixed essence, vanilla extract, browning, and the cooled fruit mixture.
In a medium bowl, whisk together the flour, baking powder, cinnamon, nutmeg, mixed spice and salt.
Combine the dry ingredients into the wet ingredients and mix well.
Pour the batter into the prepared pan. Bake for 80-90 minutes. Allow to completely cool in the pan before serving.
Notes
Glace fruit mix is usually a mixture of orange peel, cherries, lemon peel, papaya and pineapple. The fruit is candied or crystalized in a sugar-syrup.
If you don't have cranberries, you can substitute currants or use more raisins.
Maraschino cherries can be used in place of the glace fruit mix.
Browning (aka "burnt sugar") is essential for this recipe to achieve the "black" colour of the cake. You can make your own browning by carefully burning brown sugar in a saucepan over medium heat, and slowly adding a bit of hot water to it. Then allow the mixture to cool before using.

Nada's Tips & Tricks: If you like fruit cake, this recipe is for you. A little more dense than the British variety and minus the rum…perfect for kids!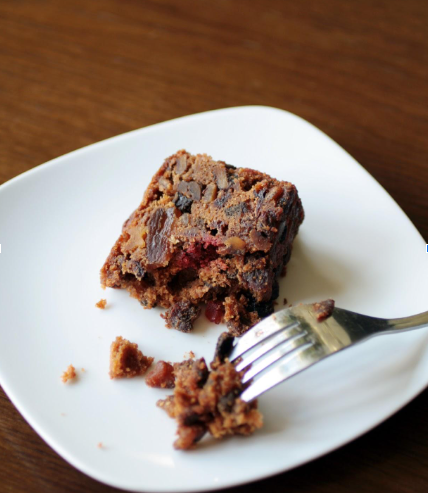 Contents and images used with permission by author, Yolanda T. Marshall.  https://www.ytmarshall.com/