from Cook More Waste Less
I had been meaning to try stuffed avocados for some time – since half an avocado with a squeeze of lemon and a sprinkle of salt and pepper is my quick go-to snack—so I always have a half left over! It wasn't until I demolished them in a little bar in San José, Costa Rica, that I was like . . . why am I not doing this all the time?! In this recipe they are simply stuffed with chopped grilled shrimp and veggies, then drizzled with fresh turmeric aioli. Honestly? If you love avocados, you can easily stuff them with almost any leftover chopped protein, grains, or mixed veggies and serve them with your favorite dressing or sauce for an instant dinner or snack. Here's my interpretation from San José.
Ingredients:
Turmeric Aioli
¼ cup mayonnaise or 1-Minute Mayo (page 196)
1 Tbsp lemon juice, apple cider vinegar, or white wine vinegar
½ clove garlic, minced
1 Tbsp fresh finely chopped turmeric or 2 tsp ground turmeric
Salt and pepper
Avocado Boats
1 cup chopped grilled shrimp (see substitutions)
1 cup chopped grilled or roasted veggies (page 40) (see substitutions)
½ cup chopped fresh tomato
Zest and juice of half a lime
Tbsp extra-virgin olive oil or avocado oil
Salt and pepper
2 just ripe avocados, cut in half and pit removed
4 leaves of leaf lettuce
Optional Garnishes
2 Tbsp chopped cilantro, basil, or parsley
2 Tbsp seeds or chopped nuts
Directions:
For the Turmeric Aioli: In a medium-size bowl, combine all of the ingredients.
For the Avocado Boats: In a medium-size bowl, combine the shrimp, veggies, tomato, lime zest and juice, and oil. Then season with salt and pepper to taste.
Take each avocado half, and with your fingers carefully peel off the skin. Avocados that are just ripe will still be a little stiff and not too soft, so this will be easy. If your avocado is fully ripe and possibly a little on the mushy side, you can simply scoop out the avocado half with a large spoon.
Portion the stuffing on top of each avocado boat (it may be overflowing) and place each boat on a lettuce leaf. Garnish, if desired.
Serve with the Turmeric Aioli or drizzle with your favorite salad dressing or a few dashes of hot sauce.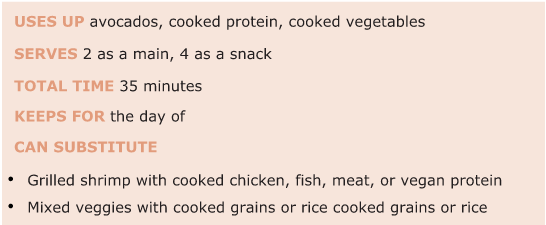 Food 911: Avocados, like apples and pears are subject to oxidation and browning. If you are preparing these items ahead of time, place them in a large bowl of water with the juice of a lemon or lime. The citric acid will help prevent browning. Also when storing these items in your fridge, create an airtight seal directly on their surfaces. For example, store guacamole in an airtight container with some water or a wax wrapper directly overtop to prevent browning.
Nada's Tips & Tricks: I tweaked this recipe to include it with our Thanksgiving appetizers and used radicchio and bib lettuce as boats and added the avocado to the filling. The radicchio was too bitter but the lettuce worked great. Make up a batch of this and keep it in the fridge to snack on throughout the day with crackers or to add to a salad. Everyone raved about the aioli – will definitely play with this one for future use!
Excerpted from Cook More, Waste Less by Christine Tizzard Copyright © 2021 Christine Tizzard. Photography © Reena Newman. Published by Appetite by Random House®, a division of Penguin Random House Canada Limited. Reproduced by arrangement with the Publisher. All rights reserved. https://www.penguinrandomhouse.ca/books/607488/cook-more-waste-less-by-christine-tizzard/9780525610656