Since many people have rediscovered their kitchens over the past few years, there has been an uptick in the amount of food waste heading to the curbside in little green/beige bins. Christine Tizzard is here to show how you can use those little scraps of leftovers to produce delicious snacks, lunches and dinners. I love taking a chicken or turkey carcass and making a soup the next day. Or using leftover rice to stuff peppers.
And Christine doesn't stop there…she'll show you how to make beauty products, pet treats and cleaning supplies plus resources to explore the waste world further. Apparently, there's lots for us all to learn! https://www.thezerowastekitchen.ca/
So why the concern around the concept of reducing our kitchen waste? When you learn that one third of the food produced in our world is wasted, you want to do your part in minimizing the impact of that statistic. Christine takes this overwhelming figure and breaks down the steps in reducing waste in your household. Small but mighty steps!
Each recipe comes with its own tips to reduce waste along with "Food 911" suggestions on purchasing, storing and preparing the foods contained in the recipe. Peppered throughout the book are celebrity chefs with ideas for zero-waste eating. Anna Olsen reiterates what we've been talking about on this site all summer – purchase fresh ingredients by visiting local farmer's markets, butchers, fruit stands, and plan your meals around what's in season. As we head into the colder months, I hope you stocked your freezer of Canada's bounty. There's a great trove of recipes in this book and the one we tried was the Avocado Boats with Turmeric Aioli – check it out in our Recipe section. The shrimp and avocado filling can be used in many ways – let your imagination go wild with its uses. A big hit at our house!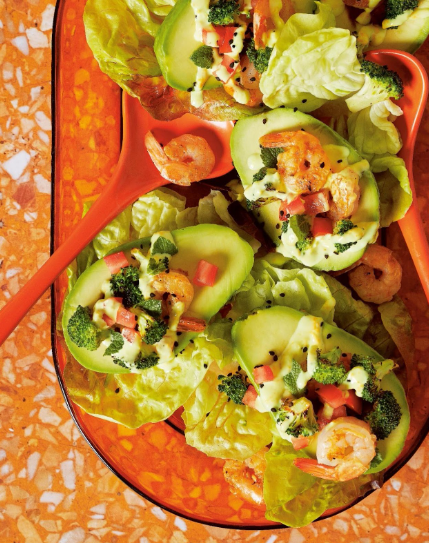 To win a copy of this resourceful book, go to our Giveaway section. If you know someone who embraces the concept of limiting their food waste, purchase this book for Christmas at https://www.thezerowastekitchen.ca/cook-more-waste-less/
For another perspective on food waste, go to our Canadians + Food tab to read The Next Supper's (Corey Mintz) viewpoint on the subject.
Excerpted from Cook More, Waste Less by Christine Tizzard Copyright © 2021 Christine Tizzard. Photography © Reena Newman. Published by Appetite by Random House®, a division of Penguin Random House Canada Limited. Reproduced by arrangement with the Publisher. All rights reserved. https://www.penguinrandomhouse.ca/books/607488/cook-more-waste-less-by-christine-tizzard/9780525610656