from Eat, Leo! Eat!
This recipe is not only delicious, but you put half the sauce away for a future meal!
Ingredients
1/4 cup olive oil
6 large shallots, sliced very thin
4 garlic cloves, finely chopped
salt and freshly ground black pepper
1 teaspoon red pepper flakes
1 (2-ounce) can anchovy fillets, drained, but not rinsed.
1 (6-ounce) can tomato paste
10 ounces spaghetti (Reserve the pasta water!)
fresh parsley, chopped
Instructions
Heat olive oil in a heavy pan over medium-high heat. Add the shallots and the garlic and season with salt and pepper. Cook, stirring occasionally until the shallots have softened with golden brown edges. About 20 minutes
Add red-pepper flakes and anchovies drained and straight from the can. Stir to combine, about 2 minutes.
Add tomato paste and season with salt and pepper. Cook, stirring constantly to prevent any scorching, until the tomato paste has started to cook in the oil a bit, caramelizing at the edges, and turning to a rusty, brick color, about 2 minutes.
Remove the pan from the heat and transfer about half of the sauce into a jar. (This is for a second meal; I freeze it.)
Fill a large pot water and boil. Cook pasta according to package instructions.
Save a cup of pasta water when draining. Transfer the cooked pasta back into the pot and add the shallot mixture and one cup of pasta water. Cook, tossing the pasta with the shallot mixture until the sauce and is reduced and coats the pasta, 3 to 5 minutes. Serve topped with fresh parsley.
Nada's Tips & Tricks: A super easy recipe but absolutely divine in taste. You'll want a Caesar salad (with anchovies of course!) for the perfect side dish.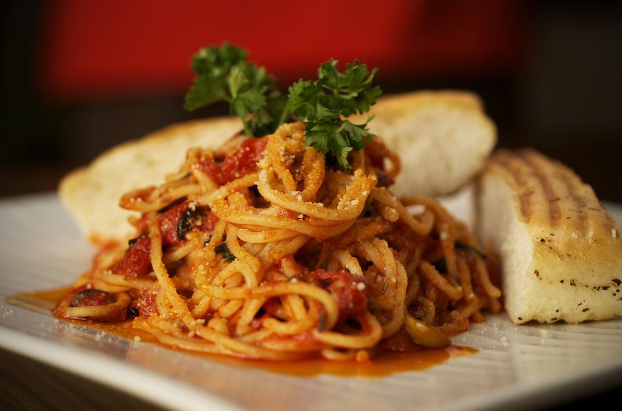 Contents and images used with permission by author Caroline Adderson. https://www.carolineaddersonkids.com/books/leo-wont-eat