We've all become familiar with infused olive oils and condiments with added flavours, now we find the everyday butter with an added punch. Von Slick's of Winnipeg has put flavoured butter (and no, not the common garlic butter!) on the map. https://vonslicks.ca/ 
Found in the freezer section, thaw and push the butter up the tube to expose just the amount you want to use. With flavours like Salted Caramel, Wild Blueberry, Mushroom Duxelles, Olive Tapenade, Garlic Confit and Roasted Red Pepper, the applications of these butters are numerous. Add them to charcuterie boards, top succulent steaks, or incorporate them into a dessert, just slice and add!
This product has caught the attention of the culinary world. Founders Rob and Landon have been featured on TV and won awards. In their first year of production, the gentlemen have sold over 25,000 tubes of butter – now that's success! Rob is the experienced chef that has harnessed his love of food into these little tubes of goodness. Landon brings his marketing savvy to ensure the Von Slick's brand gets traction in the culinary world. What started as a Winnipeg-only sourced product, these flavoured butters can now be found across the prairies… but just wait and see, Canada…they'll be showing up near you very soon! https://vonslicks.ca/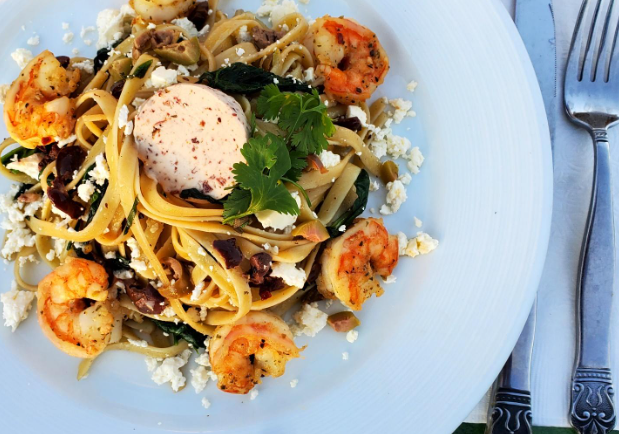 To inspire you in your flavoured butter journey, we bring you Olive Tapenade Shrimp Linguine in our Recipe section. The fun part of using these products is that you can use as little or as much flavour as you want to infuse into your dish. Who doesn't like butter? It's the basis of so much good food and adding some unique flavours, enhances the dish you'll be serving the people you love.
To tease you with this delectable product, we offer a four-pack of the winner's choice of flavoured butters in our Giveaway section. We know you'll want to stock up on these delectable butters so head over to https://vonslicks.ca/where-to-buy/ and start stocking your freezer!
Contents and images used with permission by Von Slicks. https://vonslicks.ca/