We explored the world of pepper last year – check it out at https://canadiancookbooks.ca/pepper/ and now we turn out attention to its companion, salt. Award winning author, Naomi Duguid guides us through the history, science and food utilizing this sometimes misunderstood but almost always found seasoning in Canadian kitchens.
Naomi has traveled around the world and applied her culinary experiences in many books like Taste of Persia, Burma: Rivers of Flavor, and Hot Sour Salty Sweet: A Culinary Journey Through Southeast Asia. Her world view is reflected in this cookbook, The Miracle of Salt. Naomi particularly enjoys going back to the Republic of Georgia where she leads culinary tours for avid foodies. In fact, she has such a tour coming up this fall – check it out at https://www.immersethrough.com/ What an experience this would be!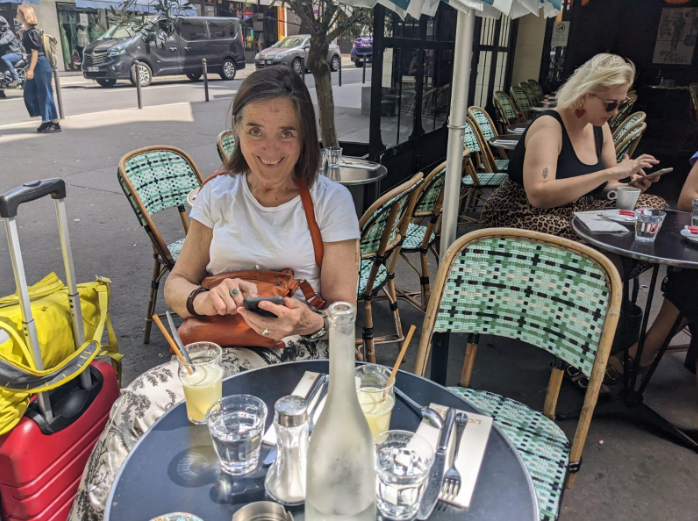 But back to salt…most people mindlessly sprinkle salt on food without giving much thought to the history, many applications of salt or how to utilize its wonderful properties to enhance our food in different ways. Naomi holds your hand through this explorative journey where we learn to choose the right sea salt to Japanese salt traditions or the proper applications of salt for various proteins. She'll explain the chemistry of salt and why we iodize it, salt geography and harvesting techniques, fermentation and more. You'll never look at your saltshaker the same after reading this book.
I love salads and love to discover new ones. Naomi provides us with a winter salad that will have you dreaming of cruising the Mediterranean. Check out Orange and Black Olive Salad in our Recipe section. If you like this recipe, you'll want more inspiration from Naomi at https://www.instagram.com/naomiduguid/
The author provides the traditional sections of cooking with her recipes like appetizers, side, entrees and desserts. One of the interesting themes in the cookbook is Naomi's ability to take classic dishes and put an international twist to them. I tried the Salted Almond Chocolate Brittle using soy sauce and Sichuan Pepper Salt giving it an Asian flavour – another recipe to please your Valentine!
Have I inspired you to check out this cookbook? Win a copy in our Giveaway section or purchase this interesting look into the world of salt at https://www.naomiduguid.com/books
Contents and images used with permission by Naomi Duguid (Artisan Books). Copyright © 2022. https://www.workman.com/products/the-miracle-of-salt/hardback