Are you intimidated of making pies from scratch knowing your pastry falls short of that dream pie of your childhood? Don't despair…Denise Marchessault holds your hand through the entire process of whipping up an absolute delight for your dinner table. Denise paired up with photographer and artist Deb Garlick who brings her whimsical creativity to the page. Both ladies want to set you up for success – just follow the instructions and you'll be a happy baker once again. https://www.denisem.ca/
We first met Denise when reviewing her first book, British Columbia from Scratch. Check it out at https://canadiancookbooks.ca/british-columbia-from-scratch-2/ along with her Baked Egg recipe, perfect for upcoming company during the holiday season: https://canadiancookbooks.ca/baked-eggs/
In The Artful Pie Project, we first go through the equipment and ingredients needed to set us up for success. Denise guides us through some of the common pitfalls of past pastry disasters before introducing sixteen pastry recipes that become the basis of all things scrumptious.
Between the over 50 recipes, both savoury and sweet, Deb provides beautiful photographs interspersed with whimsical baking caricatures. See her work at https://www.debgarlick.com/ – her talents will delight you as much as the pies!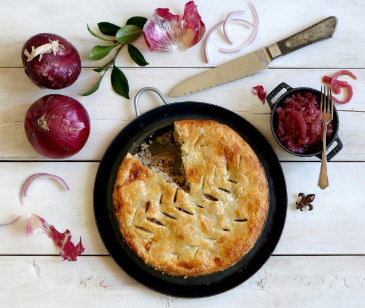 With the Christmas season upon us, we try Denise's version of a French-Canadian classic, a tourtière pie in our Recipe section. Along with the Tourtière with Duck Confit, we're provided a lovely accompaniment with the Red Onion Relish. Both will be a welcome addition to your Christmas Eve dinner! Denise's favourite? Ratatouille Pie & Tarragon as well as Crab Quiche – these dishes will impress your family and guests.
You'll want this amazing resource on all aspects of pie making. Win a copy in our Giveaway section or purchase a book for yourself or a pie lover on your gift list at https://www.denisem.ca/books

Cover image and Tourtière with Duck Confit recipe and photographs printed with permission from Whitecap Books Ltd. https://www.whitecap.ca/Detail/1770503609