from Easy Meal Prep
Serves 4
Prep Time: 15 minutes
If you ask me, the peanut sauce is what makes this dish so good!
Peanut Sauce
¼ cup (60 g) natural creamy peanut butter
2 tablespoons (30 ml) soy sauce
1 tablespoon (15 ml) rice wine vinegar
1 teaspoon freshly grated ginger
1 teaspoon raw honey (optional)
2 to 3 tablespoons (30 to 45 ml) warm water
Bowls
2 cups (320 g) cooked brown rice
1 teaspoon sesame oil
1 bag (16 oz or 454 g) shelled edamame (thawed if using frozen)
1 large red bell pepper, diced
½ large seedless cucumber, diced
1 medium-to-large carrot, julienned
4 scallions, chopped plus more for topping
¼ cup (10 g) roughly chopped Thai basil leaves
2 tablespoons (16 g) sesame seeds (white or black) for topping
Directions
To make the peanut sauce: Place all the peanut sauce ingredients into a Mason jar or sealable container and secure with the lid. Shake to combine. Add warm water, 1 tablespoon (15 ml) at a time, to thin the dressing to desired consistency.
Equally divide the sauce into 4 small containers. Store in the refrigerator for up to 5 days. The sauce may need to be reheated to make it pourable. Simply pop the jar (without the lid) into the microwave for 20 seconds, stir and pour.
To make the bowls: Drizzle the cooked rice with the sesame oil and set aside to cool (if the rice isn't already cooled!). To a large bowl, add the edamame, bell pepper, cucumber, carrot, scallions, and basil, and toss until well combined.
To assemble the bowls, equally divide the rice into 4 containers, followed by the vegetable mixture storing the toppings in separate containers. Top each portion with a sprinkle of sesame seeds and some chopped scallions. Store in the refrigerator for up to 5 days. When you are ready to enjoy, pour the desired amount of peanut sauce over the vegetables and rice, and combine.
All content used with permission by Erin Romeo of Easy Meal Prep. https://www.foodprepprincess.com/
All images used with permission by Alison Bickel Instagram @alison_bickel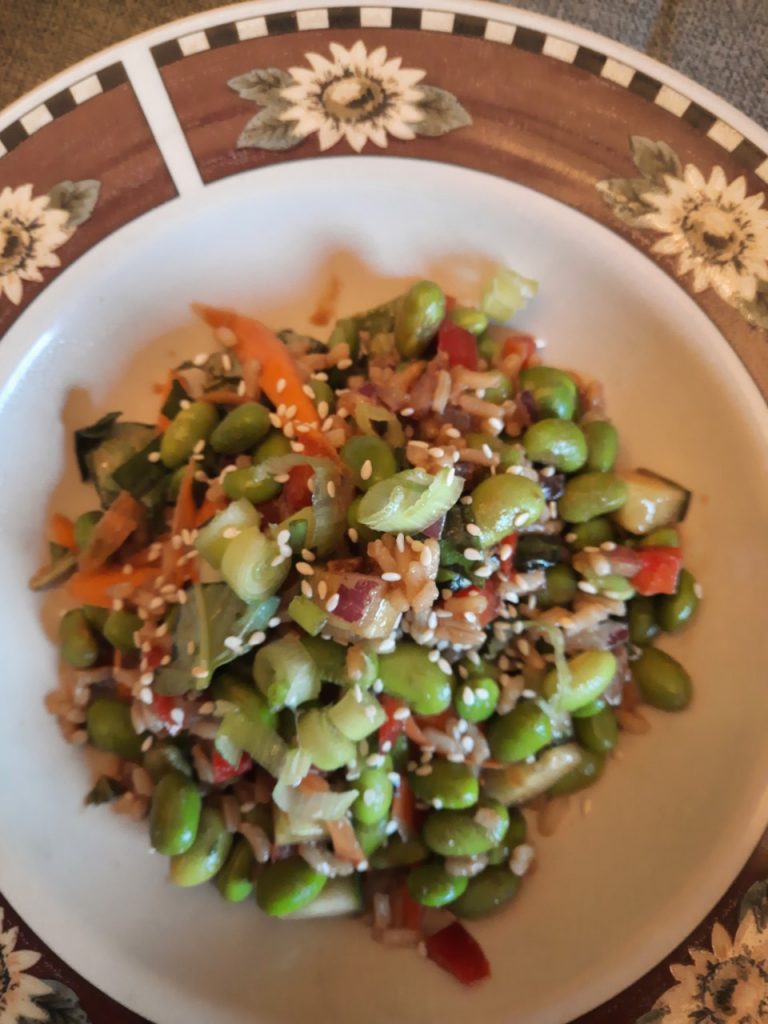 Nada's Tips & Tricks: Well, this was a little too healthy for my guys…but they loved the sauce/dressing. I would add more rice and less edamame next time.