from The Food Doula Cookbook
Orange vegetables, including sweet potatoes and carrots, are excellent sources of beta carotene, which the body uses to make vitamin A. Vitamin A is crucial for the functional development of baby's organs and immune system. Pairing betacarotene-rich vegetables with a high-quality fat, such as avocado oil, helps the body take in as much of this important micronutrient as possible. And also … fries are delicious. Orange you glad fries are part of a healthy pregnancy diet?
5 MINUTES PREPPING • 25 MINUTES COOKING • MAKES 1 TRAY
WHAT YOU NEED:
For the fries
1 ½ tbsp (22 mL) avocado oil
2 small, sweet potatoes
4 medium carrots
1 ½ tsp (7.5 mL) smoked paprika
½ tsp (2 mL) sea salt
½ tsp (2 mL) cumin
For the dipping sauce
¼ cup (60 mL) extra virgin olive oil
2 or 3 roasted red peppers (from a jar)
2 tbsp (30 mL) tahini
Juice from 1 lemon
1 tbsp (15 mL) minced garlic
¼ tsp (1 mL) sea salt
HOW TO MAKE IT:
1. Preheat oven to 450°F (230°C), and line a baking tray with parchment paper.
2. Peel and chop carrots and sweet potatoes into finger-sized pieces. For carrots: cut into 2 or 3 pieces, then halve each lengthwise. For sweet potatoes: cut into quarters, halve each piece, then make half-inch slices lengthwise, slicing in half again to desired size.
3. Add carrots and sweet potatoes to prepared baking tray, and coat with avocado oil and spices. Mix and evenly coat each piece, doing your best to give each piece its own space on the tray before putting the fries in the oven.
4. While carrots and sweet potatoes are in the oven, add all dipping sauce ingredients to food processor or blender, and pulse until smooth.
5. Bake for 25 minutes, until fries begin to get crisp but stay soft on the inside. Sprinkle with another pinch of sea salt and enjoy.

Nada's Tips & Tricks: This was a great hit with the family…and I got the grandkids to eat their veggies! We used peanut butter instead of tahini and it worked well. A great side dish for any meat or add a salad and you have a great veggy lunch!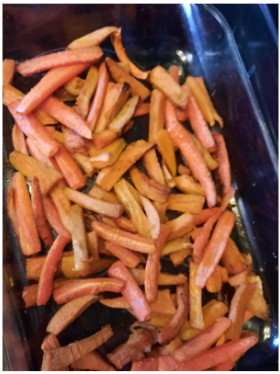 Contents and images used with permission by Plumleaf Press. https://plumleafpress.com/product/the-food-doula-cookbook-a-guide-to-a-healthy-pregnancy-and-a-nourished-new-mom/