It's time to push any lasting snow off our barbecues and embrace the spring air and outdoor culinary delights! To get you thinking about entertaining on your back deck once again, we bring you Smokin Jon's BBQ sauces and spices.
Located in Richibucto Road, New Brunswick, owners Jon and Karolina bring their talents and skills to the homegrown business of developing bbq ideas. Jon's love of cooking stemmed from working alongside his grandmother in St. Anthony, Newfoundland and refining those skills at a culinary school in Edmonton, Alberta.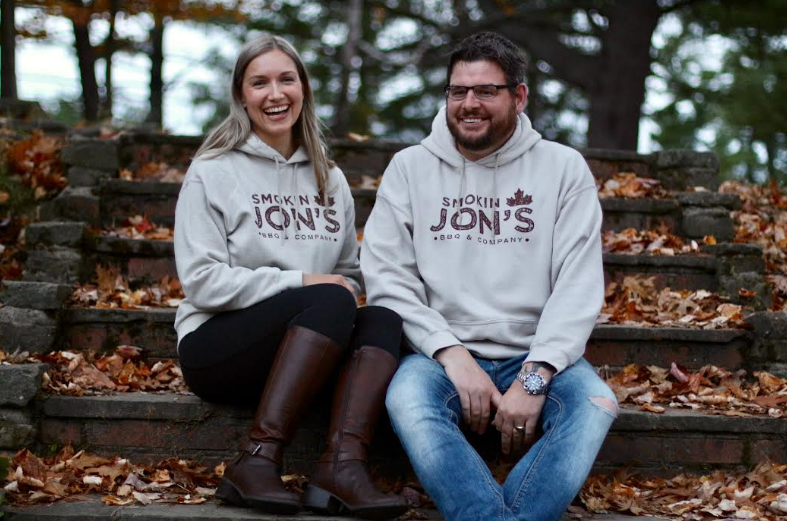 Karolina doesn't like cooking that much but oh she loves to bake! She brings her organizational skills along with marketing savvy and together this couple cooks up a storm! From developing the products in their small kitchen in May 2021 to now producing copious amounts of bottled sauces in a licensed kitchen, this couple has propelled their product line forward. Jon and Karolina are thrilled to be back at farmer's markets in Fredericton and surrounding region this spring and summer.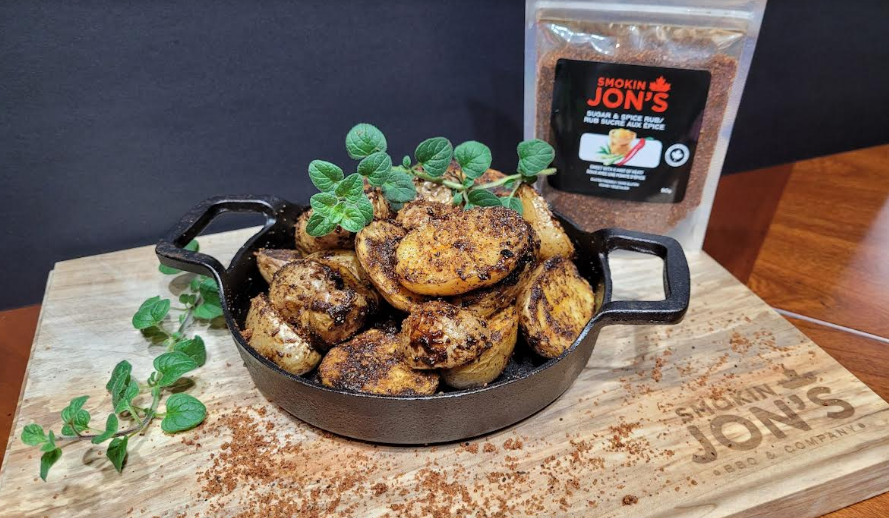 Since we're all thinking about what goes into our food and ensuring we're eating as healthy as possible, Jon and Karolina want you to know that all their sauces and spices are handcrafted in small batches and contain only natural ingredients, no MSG and no preservatives. We tried the Cubano sauce and the flavour profile is so much better than the mass produced sauces from generic companies.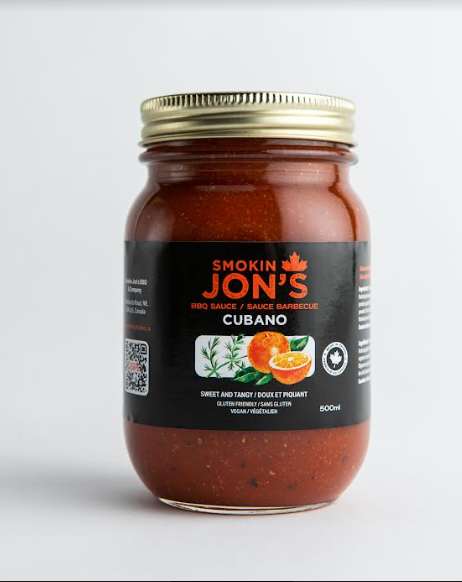 Jon's favourite recipe is the Baby Back Ribs – get the recipe at https://www.smokinjonsbbq.ca/recipes/ Then head over to our Recipe section and try the delightful spring dish: Grilled Shrimp Cubano Salad.  You can eat it on its own for a refreshing lunch or pair it up with other seafood for a heartier dinner.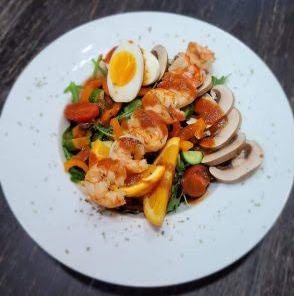 If you're looking for variety in your springtime grilling, look at the options Smokin Jon's provides: in the sauces, you have Cubano, Reaper, Maple or Honey and in the spice department, choose either herb & spice or sugar & spice. Get one of everything and pick your favourite! https://www.smokinjonsbbq.ca/products/ You'll be happy to know that a hot sauce, Cranberry Mezcal Reaper, is in the works – look for it on their website soon!
We also want you to win a gift pack of sauces and goodies along with a branded hoodie in our Giveaway section – $98 worth of happiness!
With phenomenal sauces and rubs and their marketing know-how, this couple and brand are going places. Order a jar or two and let me know what you think!
Contents and images used with permission by Smokin Jon's. https://www.smokinjonsbbq.ca/