Celebrating Canadian authors, my first go-to author is Anthony Bidulka who has two series and one stand-alone. His next book comes out in 2022, "Going to Beautiful" so I'm here to whet your appetite to discover this Saskatchewan author.
See for yourself at https://anthonybidulka.com/
Bidulka's books have been nominated for Crime Writers of Canada Arthur Ellis Awards, Saskatchewan Book Awards, a ReLit award, and Lambda Literary Awards. Flight of Aquavit was awarded the Lambda Literary Award for Best Men's Mystery, making Bidulka the first Canadian to win in that category.
While living in Calgary a few years ago, the bookcrossing group there helped me discover Anthony's Russell Quant series. If you live in the Calgary area and you'd like to join an amazing group of readers, check them out at https://www.facebook.com/groups/335814024499
Anthony's latest book, Set Free, takes us to Morocco – his description of the markets and settings transport you to another culture and world. How did he choose this country for the location of this novel? In his words:
In 2012 I was turning 50. In the year leading up to the milestone, I came up with the idea to mark the occasion by planning a solo getaway, no holds barred, sky was the limit. This of course immediately put a great deal of pressure on me to figure out what the experience should be. After all, when, in our adult lives, do we get a week or two to do exactly what we want to do, wherever we want to do it?
I thought of spa vacations, the beach, maybe a food and wine tour. Eventually I hit on the idea of visiting Morocco, specifically Marrakech and the Atlas Mountains. Marrakech is undoubtedly not for everyone. This is a city with edge. It is contradictory and not easily fathomed, but for many who visit, that is all part of its elusive charm. It was as exotic a place as any I'd ever been to, my spouse had no desire to visit there, and with French and Arabic the official languages, I knew this would be the perfect place for a challenging adventure.
An adventure it was. At times daunting, occasionally maddening, always exhilarating, Marrakech is all about getting lost, letting go and opening up to whatever experience or encounter comes your way.
The sights and sounds and smells of that trip are still with me today. The experience inspired many of the scenes and story lines in Set Free.
We have a vibrant Moroccan community in Canada with delicious food. I worked with an amazing Moroccan young lady in Calgary – Eman. She encouraged me to add Morocco to my traveling bucket list. And to tease you with some flavours from this colourful country, try Anthony's Moroccan Chicken and Arugula Salad in our recipe section – it's delicious according to Cathi R, who loves trying new recipes. This might help inspire you to try a Moroccan dish.
To purchase a copy of Anthony's book, visit: https://anthonybidulka.com/books/set-free.
To win your very own book, enter our contest check out the Giveaways page.
Recipes and images used with permission of author.

And to store all those Moroccan and other spices, you'll need a spice tin. My cooking school peer and world traveling chef, Smita Chandra is providing our
readers with their very own beautifully crafted tin.
Check out Smita's blog at http://smitachandra.com/blog/ and travel vicariously through her round-the-world culinary explorations. Smita has some older
cookbooks you might want to discover – go to https://www.amazon.ca/s?k=smita+chandra&dc&ref=a9_sc_1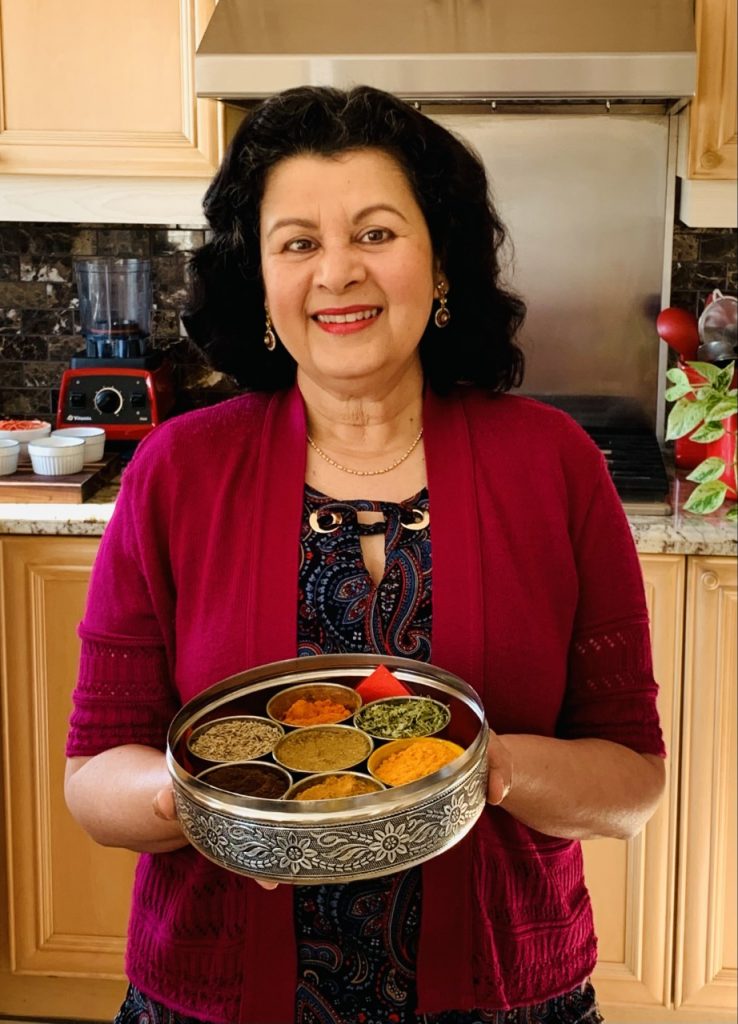 Developing South Asian recipes is one of Smita's strengths. Her wealth of experience, culinary expertise and deep understanding of regional Indian cuisines
have combined to produce recipes that create traditional, flavorful and aromatic dishes while still managing to simplify the cooking process tremendously. Embark on a culinary journey with Smita through her recipes at https://www.smitachandra.com/recipes
Go to our Giveaway tab to enter today!