Amy and I met many moons ago when she taught some classes at the cooking school I was running. We were just on the cusp of the healthy eating food craze and Amy's knowledge and experience kept people coming back to her classes. I asked Amy how she got started in the food industry and this is her start-up story:
"I have always been interested in food and recipes. As a young teenager, I kicked my mom out of the kitchen and took over the planning and preparation of most of our family's meals. My dream job was to work in a test kitchen so I went to the University of Western Ontario and got my HBSc.in Human Ecology: Foods and Nutrition. As a Professional Home Economist. I started my own Personal Chef business, taught cooking classes and started working with Dana McCauley as a recipe tester. After working with Dana for 10 years testing and developing recipes for magazines and food companies, she sold me her business and I achieved not only my dream to work in a test kitchen but to own one: The Test Kitchen Inc. http://www.thetk.ca/
Now with a young family, my project load is smaller and I prefer to work behind the scenes, but I am still able to do what I love – get creative in the kitchen and use my food writing skills to help my clients with their communication and marketing strategies."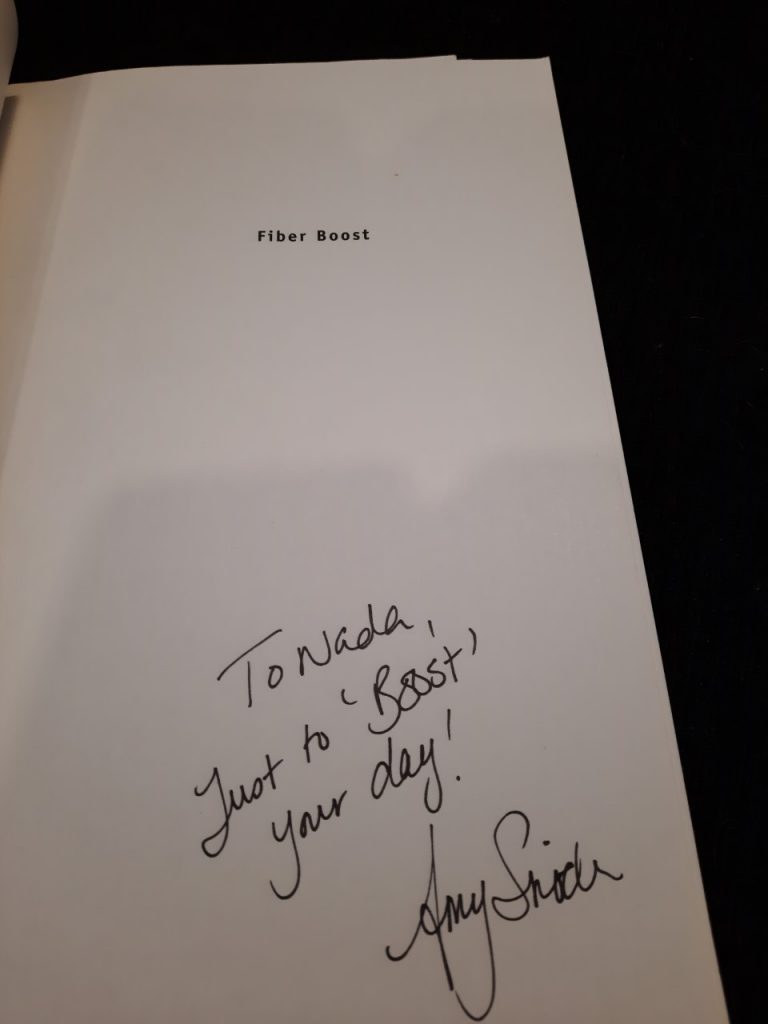 As we get older, it becomes obvious that fiber is a big deal. And the earlier we adopt a healthy fiber-filled diet, our bodies will appreciate the attention! Not only is this cookbook packed with nutritious recipes but Amy strives to educate us on fiber-packed foods, the impact of fiber for combating various diseases and easy ways to incorporate more fiber into our diet.
I asked Amy why she wrote this particular cookbook and focused on fiber. "My story of how this cookbook came about is not that glamorous, and one of unexpected opportunity. I had been working with Dana McCauley – who at the time was a well-known cookbook author for Last Dinner on the Titanic. She had recently launched her book Pantry Raid and her publisher was looking to write a health-themed cookbook. Dana has chef's training, but because of my nutrition background, she suggested I bid on the job. I pitched several different themes and fibre was the concept that they picked up. I was really lucky, not very many people have that kind of door open for them, especially as an unknown. I know that today, you need to have a real following to get a cookbook deal so I will always be grateful for that opportunity. Dana mentored me through the project. I did a lot of research and tried to pull together a cookbook that families could use to make small changes in their diet. It took about 2 years in total to write the book from concept to final edits. While I am proud of the book, I was so new to food writing when I wrote it. After over 20 years in the business, there are SO many things I'd do differently. But that is what is so awesome about food writing, it is always evolving, changing and challenging your creativity."
We tried the brisket braise and smashed potatoes – see the recipes in the Recipe tab. Introduce healthier food choices to your family – my grandkids loved the Detox Smoothies and Cereal Bars! Amy's favourites?
"I remember at the time, my favourite recipe was the Birkenstock Spaghettini (p. 75) – I was single and eating a lot of pasta as an affordable option. And have always been a fan of sweet and savoury flavour combos. These days I would gravitate more toward the Moroccan Chicken & Lentil Stew (p. 99) but my kids would probably prefer the Skillet Salsa Supper (p. 88)"
Whichever recipe you choose from this cookbook, you know you will be eating healthy and leave the table satisfied!
For more information on Amy and what she brings to the culinary world, visit http://www.thetk.ca/
Win a copy of Fiber Boost in our Giveaway section or head over to Amazon to purchase your own copy:

Content and pictures used by permission of author.
MAKING GOURMET HOT SAUCES IN-HOUSE FROM SCRATCH SINCE 2002!
Want to add a little heat to your fiber-rich dishes (this would have been a great addition to the brisket braise I tried – see recipes)? Not only does Maritime
Madness serve up spice in their sauces, but educates us on the Capsaicin (cayenne pepper) benefits in your diet:
 High in vitamin A, C, and the complete e of B complex vitamins
 High in beta-carotene, a potent anti-oxidant
 Rich in calcium and potassium making it wonderful for the heart
 A blood detoxifier and have been found to reduce cholesterol 
 Helpful in preventing ulcers by killing bacteria you may have ingested
 Good for the digestive system as well as the heart & circulatory system
Their website categorizes their product by ingredients and heat levels, as well as lifestyles: gluten-free, dairy-free, sugar-free, vegan, and almost vegan. Be sure to check out the video reactions to the one-chunk (one small square of Carolina Reaper peanut brittle, the world's hottest pepper, and dusted with a LOVELY coating of Ghost Pepper) challenge…interesting reactions!
Check them out at https://maritimemadness.com/ and enter to win a box of sauces in our Giveaway section!