from Russian Cuisine
(Salat Olivye)
This is definitely the most popular of all Russian salads. No special occasion is celebrated without it. The original recipe for Salad Olivier, or Zakuska Olivier, as it was once called, was made popular by a Russian chef of French origin – Lucien Olivier. He worked in Restaurant Hermitage in Moscow, at the end of 19th century.
The exact ingredients of the original recipe are still the subject of much discussion and speculation. It is believed they were kept secret by the master himself and that Olivier never disclosed the recipe to anyone. However, it did not remain a complete mystery as versions of this salad appeared in other restaurants in Moscow and further afield. The first ever recorded recipe for Zakuska Olivier dates back to the late 1890's. This recipe included quail, fresh cucumbers, olives, crayfish, potatoes, lettuce and a composite sauce made with a mayonnaise base.
The salad was well known and always in demand. It is not surprising that attempts were made to recreate the masterpiece at home. Even the political and social turmoil of the revolution and early Soviet period did not diminish people's love for this salad. Due to the absence of many ingredients and the adaptation to the new Soviet lifestyle, the recipe for Salad Olivier evolved over time. Olives and quails are gone, and replaced with simpler ingredients. Here is the current version of the classic Salad Olivier.
Prep time: 1 hour

Ingredients

3 medium potatoes, unpeeled
2 medium carrots, unpeeled
3 hard-boiled eggs, finely chopped
1 c. (250 ml) cooked ham (or boiled chicken breast), diced
2 green onions, finely chopped
2 dill pickles, finely chopped
½ c. (125 ml) chopped fresh dill or parsley
½ c. (125 ml) canned green peas
1½ c. (375 ml) mayonnaise
½ tsp. (2.5 ml) salt
½ tsp. (2.5 ml) black pepper
Directions
Cook the potatoes and carrots until tender and then let cool. Peel and dice them and place in a large salad bowl. Add hard-boiled eggs, ham, onions, pickles, dill and peas. Mix well. Add the mayonnaise, salt and pepper, making sure that the mayonnaise evenly coats all the ingredients. Makes 6 servings.
Content and images used with permission by author Maria Depenweiller and Fitzhenry & Whiteside.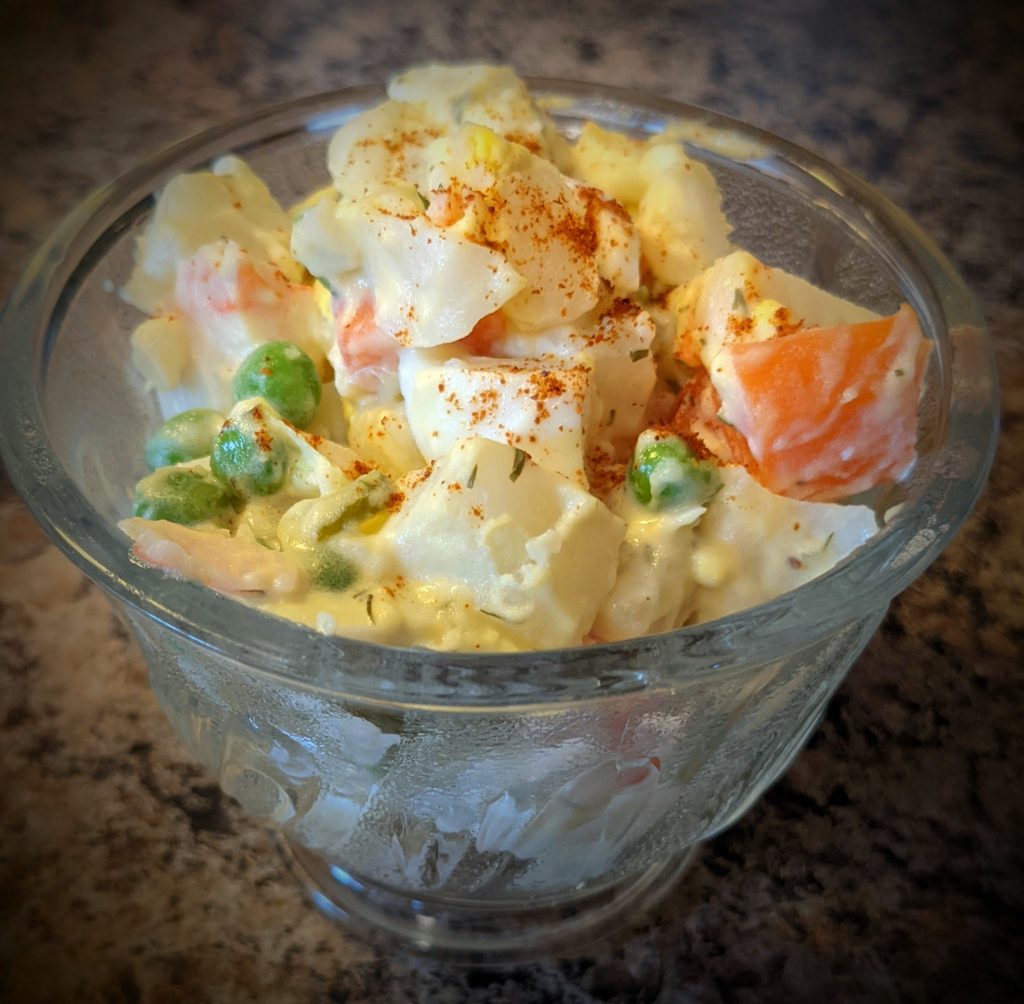 Nada's Tips and Tricks: Both the French and Italian have versions of this recipe (see Canadians + Food featuring Jan Wong's Apron Strings where she talks about this recipe). Both love to pile on the mayonnaise…I added this ingredient gingerly only barely coating the vegetables. Didn't have any pickles so used relish and used frozen peas, and added crab meat. You can add or remove ingredients to your taste – its quite versatile. A big hit around our table!