from The Wholly Book of Menus
The terms Piri-Piri, Peri-Peri and Peli-Peli can be used interchangeably. Piri-Piri is the correct Portuguese spelling, while the other two spellings are the correct way to say this in several African countries. This is because this sauce was actually born in Africa, where Portuguese settlers used local peri-peri chilies to make this spicy creation. The name of this sauce comes from Swahili, where "pilipili" literally translates to pepper-pepper.
Number of Servings: 8
Ingredients:
1.5 kg (3.3 lbs) whole chicken
1 tsp (5 mL) salt
1 Tbsp (15 mL) cooking oil
Sauce:
½ cup (125 mL) cooking oil
1 head garlic, crushed
2+ red chilli, diced
3 bay leaves
1 tsp (5 mL) ground paprika
Preparation:
Cut butterfly: cut out spine and expose breastbone. Salt the chicken and allow to tenderize in the fridge for 1-8 hours.
Coat chicken with oil and bake, side up, in the preheated oven at 350F (180C) for 25-30 minutes.
Sauce:
Blend/mix to make the Piri Piri sauce.  Brush over chicken and broil for 7-10 minutes.  Turn, brush with more sauce and broil for an additional 7 minutes.

Nada's Tips & Tricks: I purchased a pre-seasoned Portuguese chicken and an unseasoned chicken to use with this recipe and then compared the two. The store bought one had garlic salt instead of crushed garlic and the spice level was a lot higher.  This worked perfectly for our family as some have a spicier palate.  Served it with buckwheat fritters & sour cream (nice offset to the heat) and carrot & sweet potato fries.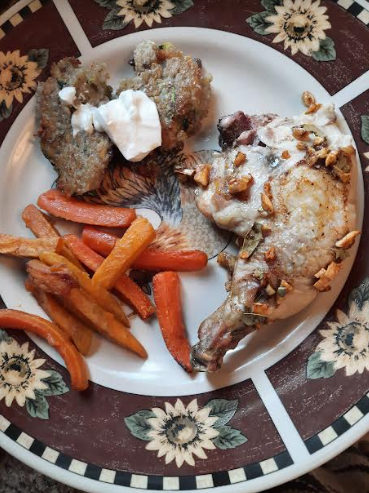 Content and images used with permission by Roxana Nedelcu, Smart Nutrition Rox. https://www.smartnutritionrox.com/