Award winning Canadian Natalie MacMaster, fiddler extraordinaire and proponent of Celtic music and traditions, is on the road again. If she isn't busy enough with home schooling her children and cooking up homemade pasta sauce and salad dressings, Natalie is touring Canada with partner Donnell Leahy featuring their Celtic Family Christmas shows.
Natalie's early years were rooted in the Celtic traditions of Cape Breton where she step-danced her way on to the stage. She then took up the fiddle and started to make a name for herself on the national and international stage before teaming up with Donnell…and starting their own family of dancers and fiddlers.
Their "Celtic Family Christmas" road show starts in Cranbrook BC on November 14 and moves east until their last stop on December 22 lands in Ottawa ON. You can enjoy their energy-packed performances in a town near you. But don't hesitate, tickets go fast for these shows so get your seats at https://www.natalieanddonnell.com/shows/
When Natalie isn't stepping and fiddling, she's cooking up meals for her large family…seven children at last count! She also graciously shares the recipes with us at https://www.natalieanddonnell.com/recipes/ I asked Natalie for her favourite dish and you can find it in our Recipe section: yummy good Homemade Monkey Bread. And why does Natalie like these divine morsels of yumminess? "I first tried monkey bread as a partially homemade treat using the Pillsbury dough. It was pretty good but I thought it was the kind of thing worth perfecting. I searched for something completely from scratch and found this recipe which is pretty much fool proof. I've been making it every Sunday since for the last 4 years!" And she's right…it's amazingly good!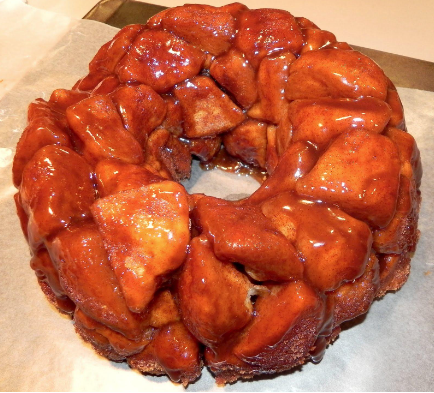 To get your Christmas season off to a good start, you'll want this gift pack of inspiration from Natalie:  2 dish cloths and 2 microfibre multi purpose cloths (for fine instruments as well) with Natalie & Donnell logo, 1 Natalie MacMaster CD and 1 Natalie & Donnell CD – go to our Giveaway section and win this lovely prize! https://shop.natalieanddonnell.com/
Contents and images used with permission by Natalie MacMaster. https://www.natalieanddonnell.com/