What Canada's chefs cook for kids…and that kids will actually eat. This book is a compilation of recipes from chefs across Canada contributing their dishes and stories of family time around their own kitchen tables. Author Joanna Fox knows the Canadian culinary world in her role as editor at ELLE Canada, and has written about the food scene for leading publications including The Globe and Mail, enRoute, and Bon Appétit. She has also co-authored, edited, and collaborated on a number of other cookbook projects. https://www.littlecritics.ca/
Joanna Fox thought she was alone when thinking her offspring would embrace her culinary delights only to find them asking for the same (most often, mundane!) sandwich or snack. Was she alone? We learn that many chefs go through seasons in their children's lives when spaghetti (no meatballs please!) or peanut butter sandwiches are made so often, we never want to see them again.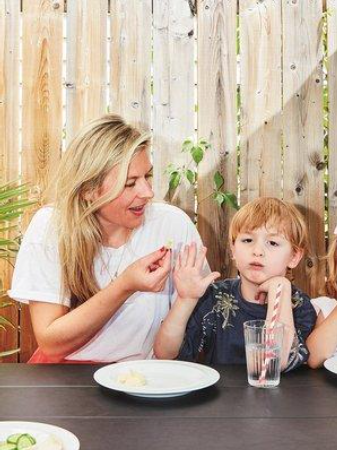 To our delight, most of the children eventually appreciate the diversity and creativity their parents put on their plates and this book shares those discoveries. The theme throughout all the stories that struck me was that the chef-parents involved their children in the cooking experience. Kids develop a sense of pride and accomplishment when creating something for the family to enjoy. While living with my grandkids, a different child would be involved in making the special Sunday dinner at our house, and they developed their palates and self-esteem.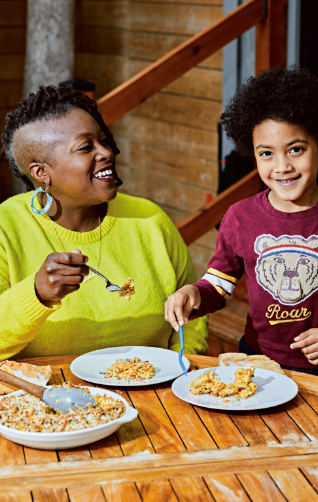 We tasted Suzanne Barr's Cauliflower Cheese Bake – try it in our Recipe section. The sauce is creamy and makes the cauliflower tasty for even the fussiest eaters. A permanent addition to our dinner table moving forward! Not fussy about cauliflower? Use different vegetables but keep the sauce consistent. The creator of this recipe, Suzanne is a chef, social advocate, speaker, and TV personality who promotes a healthier kitchen culture. She is the author of My Ackee Tree, a memoir and collection of keepsake recipes. We'll be featuring her book in a few weeks. In the meantime, check out www.suzannebarrfood.com I asked Joanna what she likes to make for family and friends. "In general, I love making chicken korma and dal (the dal recipe from the cookbook), fish tacos (actually a Melissa Clark recipe!), or grilled chicken brochettes (my recipe from the cookbook) with greek salad, homemade tzatziki and lemon potatoes." We're coming to your house for dinner, Joanna!
To win a copy of this delightful book, go to our Giveaway section. To order a copy (great Christmas gifts for those emerging chefs!), check out https://www.littlecritics.ca/ 
Excerpted from Little Critics: What Canadian Chefs Cook for Kids (and Kids Will Actually Eat) by Joanna Fox. Foreword by Frederic Morin. Copyright © 2022 Joanna Fox. Photography by Dominique Lafond. Photos on pages, 30, 31, 88, 89, 91, 124, 125, 212, 213, 220, 221, 237, 248, 253, 254, 255, and 256 by Maya Visnyei; and on pages 60, 61, 84, and 253 by Viranlly Liemena. Book Design by Talia Abramson. Published by Appetite by Random House, a division of Penguin Random House Canada Limited. Reproduced by arrangement with the Publisher. All rights reserved. https://www.penguinrandomhouse.ca/books/671301/little-critics-by-joanna-fox/9780525611509