from Ricardo: Ultimate Slow Cook
Preparation 15 MINUTES
Cooking 10 HOURS
Servings 10
Warm UP TO 8 HOURS
Freezes well
1 bone-in smoked ham shoulder (about 6 1/2 lb/3 kg)
2 tbsp (30 ml) Dijon mustard
3 or 4 cloves
1 bottle (341 ml) pale ale
3/4 cup (180 ml) maple syrup
1 Remove the mesh from the ham. Place the ham in the slow cooker. Brush with the mustard and stud with the cloves.
2 Add the beer and maple syrup. Pour water over the ham until the liquid is 2 inches (5 cm) from the top of the slow cooker.
3 Cover and cook on Low for 10 hours or until the ham is fork-tender. If possible, turn the ham over halfway through cooking. It can be maintained on Warm for up to 8 hours.
4 Remove the ham from the slow cooker and slice thinly or break into pieces. Keep the cooking juices (about 9 cups/2.25 litres) to cook whole potatoes, if desired.
Recipe from Ricardo: Ultimate Slow Cooker by Ricardo Larrivée ©2018. Published by HarperCollins Publishers Ltd. All rights reserved.  https://www.harpercollins.ca/9781443455077/ricardo-ultimate-slow-cooker/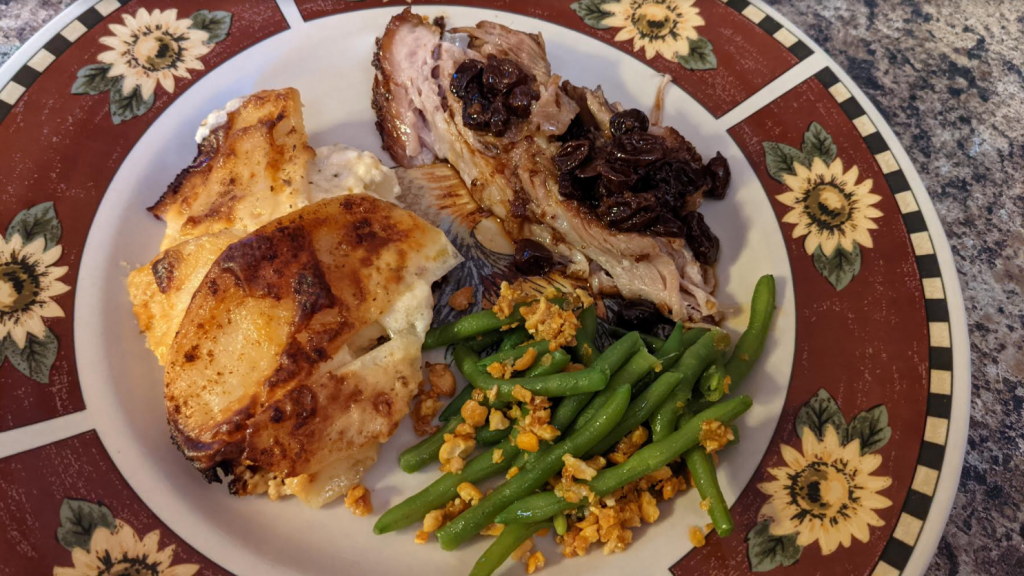 Nada's Tips & Tricks: We used the birch syrup instead of maple…delicious!  https://canadianbirchcompany.com/ I made a sauce with the cooking juices and added raisins.