from Russian Cuisine
(Lenivye golubci)
Though regular cabbage rolls are quite delicious, they are also quite labour intensive. The Russians came up with a shortcut version of this dish. In this recipe, cabbage leaves are not used to wrap up the filling but are instead shredded.
Ingredients
1 onion, diced
2 Tbsp (30 mL) butter
2 cups (500 mL) water
¼ lb (250 g) ground pork
½ cup (125 mL) white long-grain rice
1 tsp (5 mL) salt
1 tsp (5 mL) black pepper
1 bay leaf
4 cups (1 L) cabbage, shredded
1 Tbsp (45 mL) sunflower oil
¼ cup (185 mL) sour cream
½ cup (125 mL) fresh parsley, finely chopped
¼ cup (60 mL) dill, finely chopped
Directions
In a large skillet, saute the onions in butter until lightly golden brown. Add water and bring to a boil. Add ground pork, mix well and bring to a boil again. Add rice, salt, pepper and the bay leaf. Let the mixture boil again and add the cabbage and sunflower oil. Cover with lid and reduce heat to low. Stew the mixture, stirring occasionally.
Once the cabbage becomes limp, about 20 minutes, check if any extra water is needed and add if required (all ingredients should be covered with liquid while cooking). Remove bay leaf and discard. Continue stewing the Lazy Cabbage Rolls until rice is tender, about 20 minutes more.
To serve, add approximately 2 Tbsp (30 mL) sour cream to each serving and garnish with parsley and dill.
Makes 6 servings.
Preparation time: 15 minutes
Cooking time: 1 hour
Content used with permission by author Maria Depenweiller and Fitzhenry & Whiteside.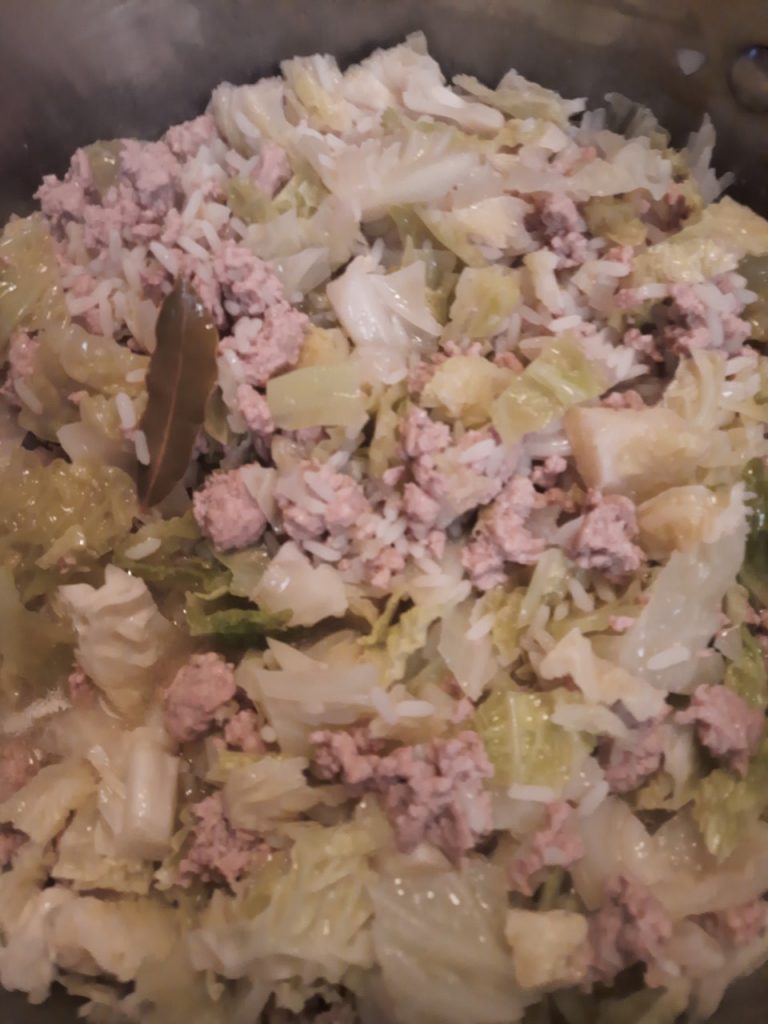 Nada's Tips & Tricks: I've tried many versions of this recipe and found this one to be on the bland side so added some hot sauce to spice it up. Replaced the water with chicken stock and used savoy cabbage as the family prefers it over the hardier green variety.