from Silmy Abdullah, author of Home of the Floating Lily
Khichuri is a very traditional Bengali rice and lentil dish. Whether we are hosting guests, or simply enjoying an intimate meal with our family, it is one of the most common dishes found in a Bengali home. It is the ultimate comfort food, and especially a staple on rainy days. It is mostly enjoyed with spicy beef curry, fried eggplants and boiled egg curry, but is just as delicious on its own.
Although there are different variations of Khichuri, here is my version:
Ingredients:
1. Long grain basmati rice – 1.5 cups
2. Yellow Moong dal (lentil) – 1.5 cups
3. Cinnamon – two to three 1/2 inch pieces
4. Cardamom – 3 to 4
5. Cloves – 3 to 4
6. Bay leaf – 2 to 3
7. Green chilis – 3 to 4
8. Dried red chili – 4 to 5
9. Whole cumin seeds – 1 teaspoon
10. Ginger and garlic paste – 2 teaspoons
11. Turmeric powder – 2 teaspoons
12. Red chili powder – 3 teaspoons
13. Sliced onions – 2
14. Crispy fried onions – 2 tablespoons (optional)
15. Coriander – 2 tablespoons (optional)
16. Salt to taste
17. A pinch of sugar (optional)
18. Warm water – 6 cups
19. Vegetable oil – 3 to 4 tablespoons
20. Ghee (clarified butter) – 1 teaspoon (optional)
Method:
Wash the rice thoroughly, then soak in water. Dry roast the lentils in a pan for 2-3 minutes, until slightly reddish-brown in colour. (Do not over-roast, as the lentils will burn and taste bitter.) After roasting, wash the lentils, and soak in water. After half an hour, strain the rice and lentils.
Heat oil in a cooking pot, and throw in the cinnamon, cardamom, cloves, cumin seeds, green chili and dried chili. Add the onions and sauté in high heat until golden brown. Add the ginger and garlic paste, turmeric powder, and red chili powder, and mix until the spices separate from the oil. (You may add a small amount of water to make sure the spices don't burn or stick to the pan.)
Next, add the rice, lentils, salt and sugar, and sauté for about 5 minutes. Make sure the mixture is well coated with the spices. Once the rice and lentils are fried, add 6 cups of warm water (measure with the same cup used to measure the rice and lentils). The idea is to use double the amount of water compared to the total amount of rice and lentils. Keep the flame in high heat until the water comes to a boil. After that, reduce the flame to medium, cover the pot and cook for about 20 minutes. Occasionally, you may open the lid and check if the water has dried up.
Once the water has evaporated and the rice and lentils are fully cooked, you can switch off the flame, or you may leave it on low heat for another 5 minutes. Finally, garnish with chopped coriander and crispy fried onions. For an extra rich and hearty flavour, sprinkle with a teaspoon of ghee, and you are all done!

Used with permission by author Silmy Abdullah. https://www.silmyabdullahauthor.com/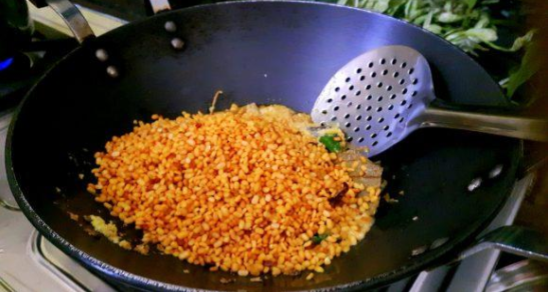 Nada's Tips & Tricks: This can be a very spicy dish – adjust the hot spices according to your family's palates.  We added chicken curry and onion salad – both dampened down the heat level a tad.  A new family favourite!