from Take Back the Tray
Makes 2
This is my favourite way to eat egg salad. It's got big, bright flavour and crunchy bits to keep things interesting. Add what you like, but for god's sake, spread that filling to the furthest edges of the bread, please!
Ingredients
4 hard cooked eggs, peeled
1/3 cup mayonnaise
2 scallions, finely chopped
1 tbsp fresh parsley, finely chopped
a few dashes of hot sauce like Tabasco or Frank's
juice from ½ lemon
kosher salt
freshly cracked black pepper
4 slices multigrain bread
1 cup watercress or arugula
Method
Place eggs in a medium mixing bowl and chop using a pastry blender or potato masher until the pieces are the size of a pencil eraser.
Add mayonnaise, scallions, parsley, hot sauce, lemon juice, salt, and pepper and mix gently to combine. Taste and adjust seasoning as necessary.
Lightly toast bread. Lay down two slices of toast and spread each slice with half of the mixture. Top each sandwich with half of the greens, then the other piece of toast, and press down lightly.
Slice sandwich, enjoy and then take your full belly out to volunteer your time at a food bank, hospital, or community food centre.
Images and content used with permission by ECW Press. https://ecwpress.com/products/take-back-the-tray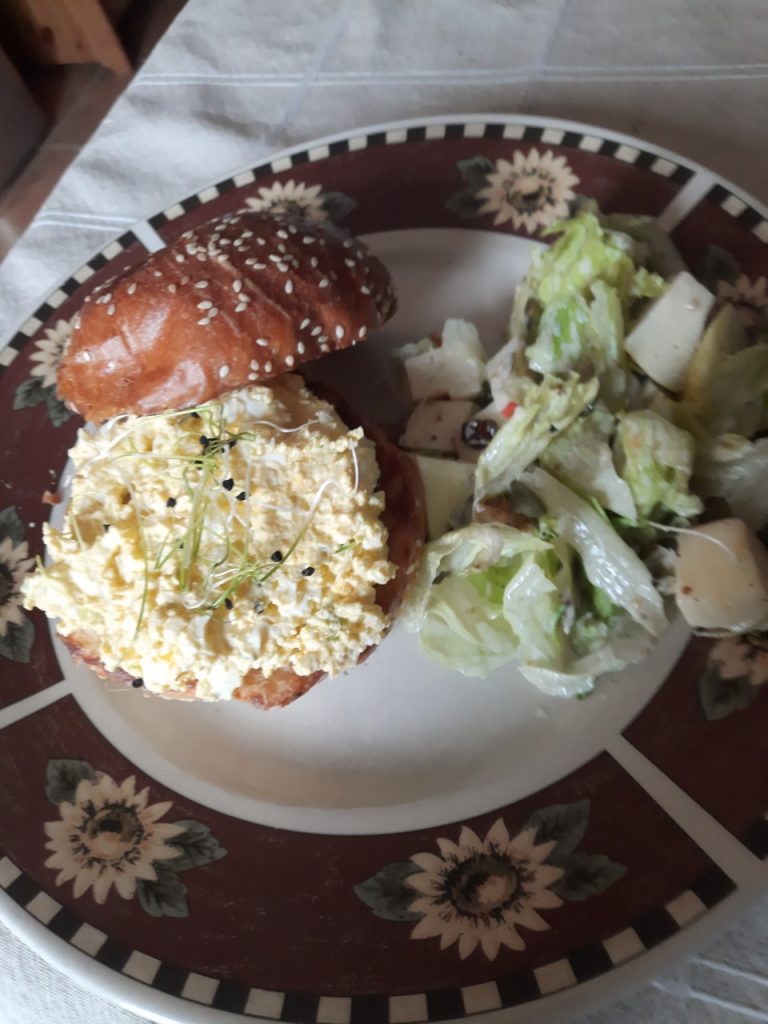 Nada's Tips & Tricks: We used brioche buns and yes, we spread the filling right to the edges. I went to two grocery stores and couldn't find watercress so used onion sprouts instead. Not as leafy but tasty nonetheless. Make lots and use the filling in wraps, on crostini bites and as a side in a summer salad.