from The Big Book of Jo's Quick & Easy Meals
Stuffed peppers are what my food dreams are made of—they are a dish I grew up with, so these peppers are my idea of comfort food. These peppers are filled with classic Italian ingredients and are quick to prepare: just pop them in the oven and forget about them until they're ready to devour! https://www.jocooks.com/
Prep time: 15 minutes Cook time: 2 hours, 30 minutes Total time: 2 hours, 45 minutes Serves: 12
Ingredients:
12 bell peppers (any colors)
1 lb (448 g) ground beef
1 onion or 3 medium shallots, chopped or shredded
1 carrot, shredded
3 cloves garlic, minced
1 tbsp (3 g) Italian seasoning
1 cup (210 g) cooked rice
2 tbsp (30 g) tomato paste
1 tsp salt, or as needed
1 tsp black pepper, or as needed
2 cups (480 ml) low-sodium chicken or beef broth
1 cup (240 ml) tomato sauce
1 tbsp (3 g) chopped fresh parsley, for garnish (optional)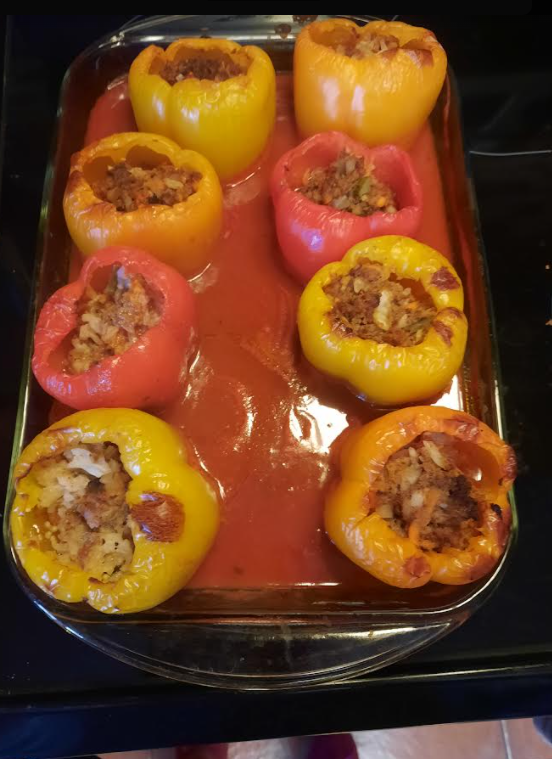 Instructions
Set a rack in the middle of the oven. Preheat the oven to 375°F (191°C).
Cut the tops off of the bell peppers. Remove and discard any seeds and membranes from the insides of the peppers. To keep the peppers from falling over while they are cooking, cut a small, even piece from the bottom of each pepper to create a flatter bottom.
In a large bowl, combine the beef, onion, carrot, garlic, Italian seasoning, rice, tomato paste, salt and black pepper. Mix the ingredients well. Stuff each pepper full with the beef mixture. Arrange the peppers standing up in a large pot, such as an oval 5-quart (4.8-L) Dutch oven.
In a medium bowl, mix together the broth and tomato sauce. Pour this mixture over the peppers. The liquid needs to come about halfway up the peppers—if needed, add some water to the pot.
Cover the pot with its lid or aluminum foil. Bake the stuffed peppers for 1½ hours. Remove the lid or foil and bake the peppers for 45 to 60 minutes, until the peppers and meat are fork-tender and the rice is fully cooked.
Garnish the stuffed peppers with the parsley (if using) and serve.
Recipe Notes: These stuffed peppers will keep in an airtight container in the fridge for 3 to 5 days. Be sure the meat is cooked all the way through and the bell peppers are entirely cool before placing them in the freezer. Put the peppers in a freezer-safe container or wrap them individually with plastic wrap before placing them in a freezer bag. They will keep for 6 to 8 months in the freezer. Allow the peppers to thaw completely in the fridge before reheating them in the oven at 350°F (177°C).
Reprinted with permission from The Big Book of Jo's Quick and Easy Meals by Joanna Cismaru, Page Street Publishing, Co. 2021. Photo credit: Joanna Cismaru https://www.pagestreetpublishing.com/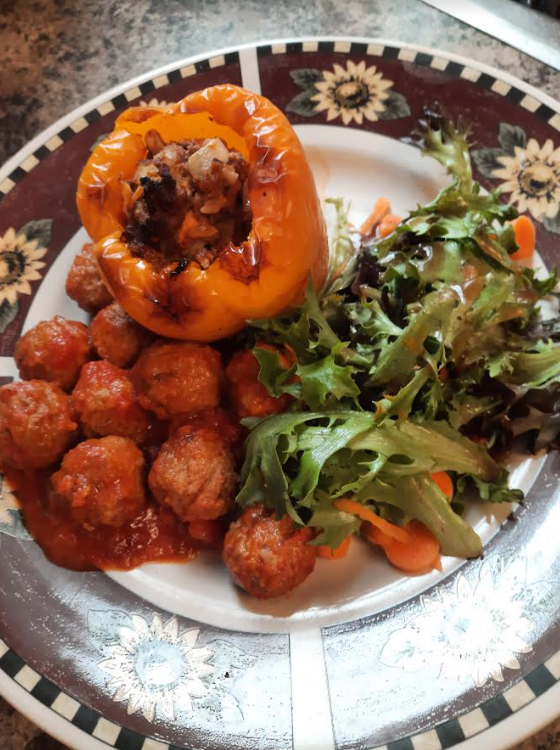 Nada's Tips & Tricks: I love recipes like this…they are so versatile. Great way to use leftover rice…and you can add anything you want…like sauteed spinach, tex-mex seasoning, leftover vegetables. Go wild!