As a food enthusiast always seeking unique flavors and culinary experiences, I recently had the pleasure of exploring the Island Gurl Foods' website, and I must say, it left me craving for more. From the moment I landed on the homepage, I was captivated by the vibrant and enticing array of tropical delicacies that awaited me. https://www.islandgurlfoods.com/
Chef Raquel Fox welcomes you to her Bahamian world through her sauces and cookbook. Check out her Dining in Paradise cookbook in our Book Review section. I love exploring new cultures and her cookbook ensures you have an authentic experience. But what of those evenings when life is busy, but you still want to put something fun and different in front of your family at mealtime? In steps Chef Raquel's myriad of sauces. Check out her fun video to explain further:
Island Gurl Foods proudly boasts an extensive selection of tropical-inspired sauces that celebrate the flavors of the Caribbean. Whether you're a seasoned island food lover or someone looking to try something new, their assortment of sauces caters to all tastes. From Bahama Steamed Sauce, Mango Jerk Sauce, Flavour Pepper Sauce, Maple Habanero BBQ Sauce to Sweet Guava BBQ Sauce, Island Gurl ensures you produce the best flavours for your next meal.
I made a few dishes utilizing the sauces and they all had their unique flavour profiles to elevate each dish. Made Sweet Guava BBQ Sauce chicken thighs, pork stir fry with rice and the Flavour Pepper Sauce, Scalloped Potatoes and Sausage (coated with the Bahama Steamed Sauce), and the grandkids topped their KD with the Maple Habanero BBQ Sauce. Living the Caribbean dream!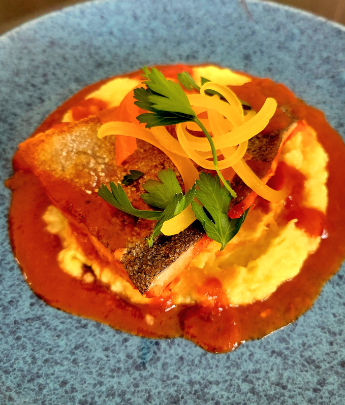 One of the standout features of Island Gurl Foods is its commitment to authenticity. Each product is crafted with care, using high-quality ingredients that stay true to traditional Caribbean recipes. As someone who appreciates genuine flavors, I was delighted to taste the depth of authenticity in every bite. It's evident that Chef Raquel takes great pride in preserving her cultural heritage through her culinary offerings. This rings true through Chef Raquel's recipes on her website…check them out at https://www.islandgurlfoods.com/recipes-2/ Speaking of recipes, we wanted you to try Raquel's Steamed Ontario Rainbow Trout with Sweet Potato Mash in our Recipe section. Fresh, local and divinely tasty!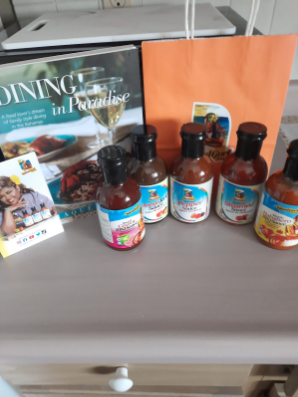 My experience with Island Gurl Foods did not end with my virtual shopping spree; it extended to their prompt and efficient customer service. The shipping process was smooth and hassle-free, with my package arriving in excellent condition. Their dedication to ensuring customer satisfaction is evident in every aspect of their service.
Prepare to indulge in a symphony of tropical delights and savor the unique and vibrant tastes of the Caribbean with Island Gurl Foods by entering to win two bottles of sauces (your choice!) in our Giveaway section and start living the dream!
Contents and images used with permission by Chef Raquel Fox of Island Gurl Foods. https://www.islandgurlfoods.com/