In a world where food experiences have become an integral part of our lives, Dining in Paradise by Raquel Fox takes us on an enchanting Bahamian gastronomic adventure that transcends mere dining and elevates it to an ethereal experience. Through her unique storytelling and unparalleled expertise in the culinary world, Fox unveils a captivating journey filled with flavors, emotions, and breathtaking destinations. Raquel is the mastermind behind the Island Gurl Foods brand where she has developed products to bring that Bahamian flavour into your kitchen. Check them out in our Canadians + Food section or at https://www.islandgurlfoods.com/ .
From the very beginning, Dining in Paradise sets a tone of opulence and refinement coupled with home cooking. Fox's ability to vividly describe the sights, sounds, and aromas of each dish brings the flavors of the Bahamian islands to life, tantalizing the reader's taste buds with each turn of the page. Her passion for food is evident throughout the book, and she artfully conveys her reverence for the culinary arts. Each chapter immerses readers in a distinct culinary destination, transporting them to Michelin-starred restaurants, hidden gems, and even intimate family-run eateries, all while uncovering the stories and inspirations behind each meal.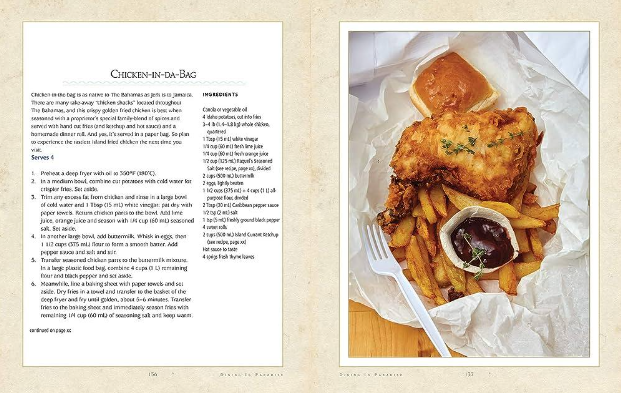 What sets Dining in Paradise apart is its focus on presenting a diverse and global range of culinary influences. Fox takes readers on a journey across continents, showcasing the delectable marvels of Europe, Africa, the Americas, and their unique presence in Bahamian dishes. The over 700 islands that make up the Bahamas will not only provide beautifully curated dishes but bring you home to the everyday dishes that bring comfort and flavour.
Beyond the culinary experiences, Dining in Paradise also addresses the importance of ambiance and service in elevating a meal from ordinary to extraordinary. Fox paints a mesmerizing picture of the elegant settings (suggested meal plans for celebrations), breathtaking landscapes (seaside dining), and attentive service (from people that are proud of their culinary heritage) that often accompany these exceptional dining moments. The book acts as a gentle reminder that dining is not solely about the food on the plate but the complete sensory experience that surrounds it.
Despite the grandeur of some of the featured dining establishments, Dining in Paradise remains grounded in its intimacy. Fox's personal anecdotes and interactions with chefs and restaurateurs add a touch of authenticity and relatability to the narrative. She humanizes the culinary world of the Bahamas, making it accessible to readers from all walks of life. We want to tease you with a dish from the book that will elevate your brunch game. Check out Crème de Banana Stuffed-French Toast in our Recipe section. I had a version of this dish in a small out of the way breakfast place in San Diego without the liqueur. It needed the alcohol!! Speaking of imbibing, the recipe also includes the Yellow Bird Cocktail – a perfect pairing!
In Dining in Paradise, Raquel Fox has crafted a masterpiece that leaves readers spellbound, yearning for the delicacies of the Bahamas and the sense of awe that accompanies them. Her ability to merge the worlds of travel and gastronomy into one harmonious tapestry is commendable. Through this delectable journey, Fox reminds us that dining is not just a means to satiate our appetites; it is an art form, a celebration of culture, and an experience that lingers in our hearts forever.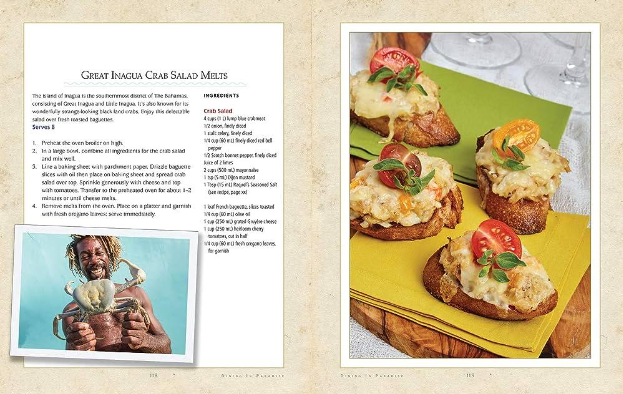 Dining in Paradise is a must-read for food enthusiasts, travel aficionados, and anyone seeking to savor the beauty of life through unforgettable culinary experiences. Prepare to be whisked away on an epicurean odyssey like no other. Get your copy of the book at https://www.islandgurlfoods.com/product/dining-in-paradise-cookbook/ or win this beautiful masterpiece in our Giveaway section.
Contents and images used with permission by Raquel Fox. https://www.islandgurlfoods.com/product/dining-in-paradise-cookbook/