Who better to know about edibles for our garden, than author Mike Lascelle, a nursery manager and certified arborist. He brings 35 years of experience that includes estate gardening, landscape construction and design along with authoring several books on plant selection and garden design, as well as articles for various publications. He lives in Maple Ridge, BC. Check him out at: https://mikesgardens.wordpress.com/about/
If you're a gardener, no doubt you've been scouring seed catalogues and visiting garden centers and been on many garden tours. This book will expand your interest in the world of not only food for your kitchen but give your garden a beautiful landscape.
From Akebia (a Japanese fruit) to Zingiber (Japanese ginger) you'll find very interesting fruits that will have your fellow gardeners wanting to explore your interesting edibles. Who knew we could grow bananas or olives in Canada? Well, in most of Canada, no…but in some of the warmer climes of BC, you may be successful. Check out Waterlea Olive Grove on Pender Island, BC to see how challenging but rewarding an olive harvest can be. https://olivetrees.ca/
Writing a book that would make sense to the many growing conditions across Canada must have been a challenge. Mike tells us what inspired him to explore this topic: "My Dad was in the Canadian air force, so I grew up all over central and western Canada including Whitehorse (where I was born), Ontario, Saskatchewan, Manitoba and British Columbia – which allowed me to experience forests and gardens in many plant zones. The only difficulty was providing people in colder climate zones with as many options for edible ornamentals as we have here in British Columbia." Each edible in this book shows the hardiness zone for growing along with its origin, water/sun requirements, pollination and pruning protocols, and blooming/harvesting timeframes.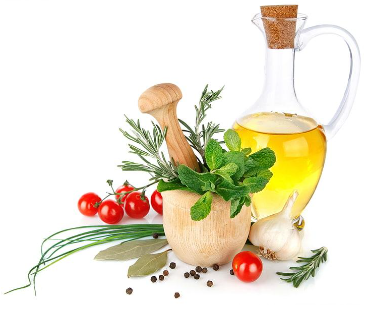 With all the wonderful fruits and herbs growing in your garden or readily available at your local farmer's market, we thought equipping you with information to produce your own herb-infused vinegars would be fun.  Check it out in our Recipe section and start experimenting with different flavours. What is brewing in Mike's kitchen? "I am in the process of picking Thimbleberries (Rubus parviflorus) from a tiny patch by a stream that I cycle by every morning. They only ripen in small waves, so it takes several harvests to get enough to make jam, which is my family's favourite.  The purple basil is probably my go-to, both for its beautiful colour (looks great on the kitchen table) and flavour, which works well on spinach salad with blue cheese and caramelized pecans."
Mike worked straight through the pandemic and is now enjoying some "me" time. "Right now, I am just enjoying getting back out in nature either hiking, kayaking or cycling but I still make time on my days off helping people design their gardens." Looking forward to more brilliantly beautiful books coming from Mike in the future.
You'll want to win a copy of this book in our Giveaway section. Or go to https://mikesgardens.wordpress.com/about/ and order your own inspiration. Then start planning next year's unique plants…you'll be the talk of the gardening circle!

Content and images excerpted from Extraordinary Ornamental Edibles: 100 Perennials, Trees, Shrubs and Vines for Canadian Gardens, Mike Lascelle, ©2018. Published by Douglas & McIntyre. Reprinted with permission of the publisher. https://douglas-mcintyre.com/products/9781771621793