from Extraordinary Ornamental Edibles
Making herbal-infused vinegars is almost a rite of passage for novice gardeners, but just be sure you have a plan for how to use them. Besides working as delicious vinaigrettes for salads and sushi condiments, a splash of herbal vinegar will add zest to soup, chili, barbecue sauce and meat marinades. You can use most types beyond the traditional white – with red wine, sherry, malt, cider, champagne and rice vinegars all adding their own panache.
The best part of creating your own herbal vinegars is that the potential flavour combinations are endless and producing your own signature blend is easily achieved with a little trial and error – with the resulting vintages making excellent gifts for your fellow gardeners.
For a basic recipe use 1 cup (250 mL) loosely packed fresh herbs for every 2 cups (475 mL) vinegar; these should be fresh cut, washed clean and patted dry. Mix the herbs and vinegar in a glass bottle or jar, cover (avoiding metal lids) and store in a cool dark place for 2 to 6 weeks. Gently stir every few days and after 14 days taste weekly, allowing it to steep until you are satisfied with the flavour. Strain the finished herbal vinegar through cheesecloth to remove the infusing herbs and spices, and store in a dark space, as sun exposure will eventually cause clouding.
Some of the best herb combinations for infusing include:
Lemon thyme and sage
Tarragon and peeled garlic
Pineapple sage and spearmint
Dillweed and dried peppers
And rosemary, various mints and salad burner (Sanguisorba minor) all combine well with other herbs
There are also herbs that tint and flavour vinegar:
Purple basil (reddish purple)
Red shiso (burgundy red)
Dillweed flowers (greenish yellow)
Chive flowers (pink)
Pineapple sage flowers (reddish)
Spices such as juniper berry (Juniperus communis), bay leaf, peppercorns or allspice can also be added at the infusing stage for extra flavour, but these should be kept whole and not ground, as the fine particles will eventually cloud the finished product.

Nada's Tips & Tricks: I LOVE infused oils and vinegars and will have fun experimenting with different flavours and fresh herbs!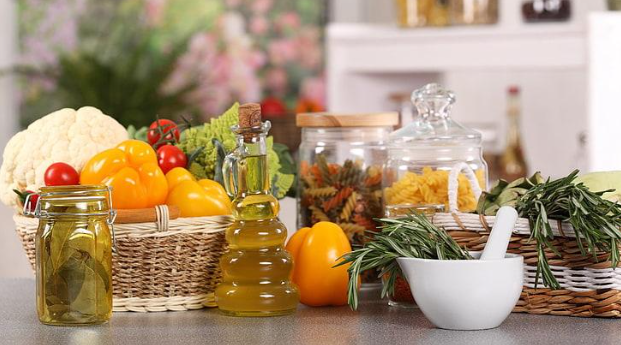 Recipe and image excerpted from Extraordinary Ornamental Edibles: 100 Perennials, Trees, Shrubs and Vines for Canadian Gardens, Mike Lascelle, ©2018. Published by Douglas & McIntyre. Reprinted with permission of the publisher. https://douglas-mcintyre.com/products/9781771621793