from Bread & Water
I make roasted tomato sauce each fall and store it in the freezer for instant anything! Spread out the work over the day to make assembly a quick job. Makes 4 rounds or 2 large rectangles.
Ingredients
Dough:
1 tsp. yeast
1 tsp. sugar
1/2 cup warm-to-hot water
4 cups all-purpose flour
1 Tbsp. kosher salt
½ tsp. dried thyme or oregano
2 cups warm water, more as needed
2 Tbsp. olive oil

Roasted tomato sauce:
3 lb. ripe Roma tomatoes
2 onions, sliced
1 head garlic, peeled and sliced
2 Tbsp. olive oil
salt and pepper to taste
Toppings:
2 Tbsp. olive oil
1 head garlic, peeled and sliced
2 onions, sliced
1 bell pepper, diced
8 mushrooms, sliced
Kosher salt and pepper to taste
1 cup sliced sausage or salami, optional
2 cups grated cheese (Gruyere, cheddar, asiago, Fontina, Parmesan)
2 cups arugula, optional
Instructions
Combine the yeast, sugar and water. Let stand for about 5 minutes until it is puffy. Add the flour, salt, herbs and remaining water. Mix until the dough is smooth and elastic. Add the oil to the bowl, swirl it around to coat the sides and bottom, and roll the dough so its entire surface is oiled. Cover the bowl and refrigerate the dough to rise until doubled in bulk or until needed.
Set the oven at 450 F. Lay the tomatoes in one layer on a parchment-lined baking sheet, spread the onions and garlic over top, drizzle with the olive oil and add salt and pepper to taste. Roast until the tops are charred and the vegetables are tender, about an hour. Remove from heat and coarsely chop in a food processor.
Remove dough from the fridge, cut in half or quarters, and shape into 4 thin flat rounds or 2 large rectangles, working with oiled hands directly on top of parchment-lined baking sheets. Let rise while you prepare the toppings.
Heat the oil in a sauté pan, then add the garlic and onions. Fry until half-done, then add remaining vegetables and optional meat. Cook over high heat for several minutes.
To assemble the pizza, preheat oven to 450 F. Spoon ½ cup of sauce onto each pizza shell and spread thinly, then add layers of vegetables, sausage and cheese on top. Bake for 12-15 minutes, or until nicely browned. Let cool before slicing, then top with arugula.
Nada's Tips & Tricks: With tomato season upon us, make a boat load of sauce and freeze or can them for the winter months ahead. Don't want to bake? Purchase roll-out dough, ready-made pizza crust or flatbread and continue with the recipe. Of course, there's nothing more comforting than the smell of home baked breads.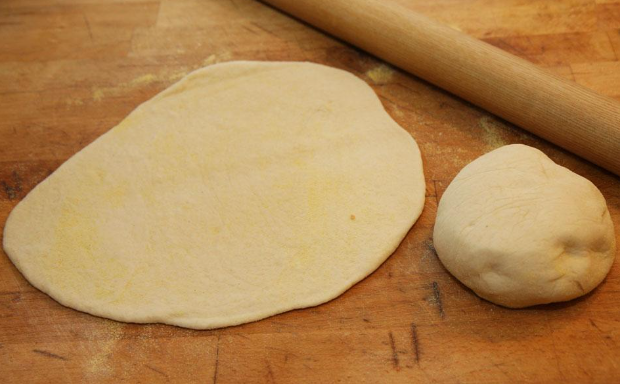 Recipe used with permission by author dee Hobsbawn-Smith. https://deehobsbawnsmith.com/