from Butter and Flower
This recipe is easier than discussing politics while stoned (or sober). My husband's family is from Northern Ireland, and a bread called "wheaten" that tastes like whole wheat banana-free banana loaf, is always on the table. These toasts taste similar, and they're even better slathered with homemade spinach artichoke dip.
Suggested Mood/Strain: Pot of Gold seems like a good strain for an Ireland-inspired recipe.
Makes 60 toasts with ¼ cup infused olive oil (about 1 mg THC per piece) – see book for detailed instructions on infusing olive oil with cannabis.
Ingredients
Toasts
½ cup bread flour or all-purpose flour
½ cup whole wheat flour
1 tsp baking soda
1 tsp coarse salt
½ cup sesame seeds
1/3 cup pepitas
¼ cup cranberries, dried
1 Tbsp poppyseeds
A few pinches of fresh thyme
¾ cup buttermilk
¼ cup infused extra virgin olive oil
Dip
½ box (150 g) frozen spinach, thawed and drained
½ box (125 g) light cream cheese
½ cup onion-flavoured sour cream dip
½ cup canned artichoke hearts, chopped
1/3 cup Asiago cheese, shredded
1/3 cup mozzarella cheese, shredded
2 Tbsp diced pickled jalapenos
Salt and pepper to taste
Directions
Toasts
Preheat oven to 350F. In a medium mixing bowl, use a wooden spoon to combine the dry ingredients. Stir in the buttermilk and infused olive oil.
Spray down a square pan and then press the dough into 6 square sections (a 9×5 inch loaf pan will also work. Bake for about 25 minutes until a tester comes away clean. Allow the square/loaf to cool, and then place in a plastic zipper bag and freeze until very solid, ideally overnight.
Preheat oven to 300F. Using a very sharp, slim unserrated knife, slice each square very thin. (I was able to get about 10 crackers out of each square.) If using a loaf pan, slice thin and then slice again into squares.
Spread the crackers on a baking sheet. Bake for about 15 minutes, flip each cracker and bake for 5 minutes more, until all sides are gently browned.
Dip
Let the spinach thaw, and then squeeze all water out through a layer of cheesecloth (or a fine sieve, but that won't work quite as well). Otherwise, there's no magic here. Combine all ingredients in an oven-safe dish.
Before serving, preheat oven to 350F. Bake dip for about 15 minutes, until the cheese is melted and gooey.
Serve warm with toasts.
Nada's Tips & Tricks: I'm not a connissour of cannibas but have many family members who are and they loved the idea of this recipe. The crackers were a little tricky but worked well with the dip.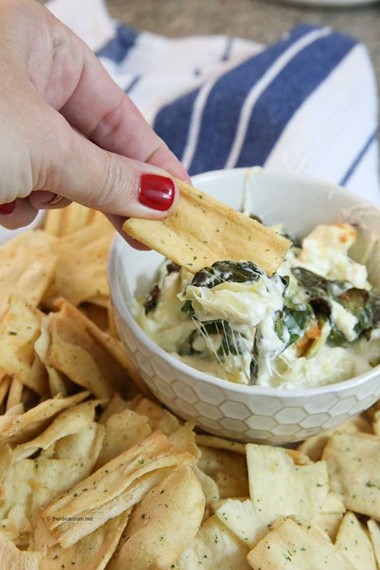 Recipe by Ann Allchin from Butter and Flower, copyright © 2022 by Ann Allchin. Reprinted with permission of TouchWood Editions. https://www.touchwoodeditions.com/book/butter-and-flower/