What ingredient is more quintessential than Quebec's maple syrup? When I worked in the school system, we would take bus loads of kids to Quebec City and one of the excursions was always to a sugar shack. The experience made me fall in love with not only Quebec City but the people, beauty and food stemming from eastern Canada.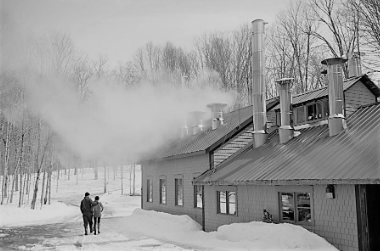 Embracing all these components in the Eastern Townships, are Daniel Cosman and Sarah Webb. With Daniel's parents, David and Linda, starting their farming adventure in 1977, they raised their children to appreciate the homegrown goodness that comes from country living. All three children have a strong attachment to the land with Daniel purchasing an adjoining farm and the families expanded their maple tapping enterprise. And as the families have grown, so has the maple business.
With maple syrup being the main focus for the Cosman farm, branching out to make maple sugar soon followed. Now they are partnering with other businesses like Earls Restaurants (Canada) and showing up at local markets and gift shows.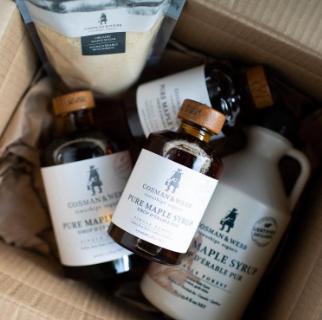 Should you want to know the history of making maple syrup in Canada, the Cosman's have you covered. Take a look at https://www.coswebb.ca/geek and learn the trajectory of tapping trees from pre-settler years and Indigenous traditions to the present-day industry. Everything you want to know about the trees and conditions for producing the most amazing product is explained on the geek page.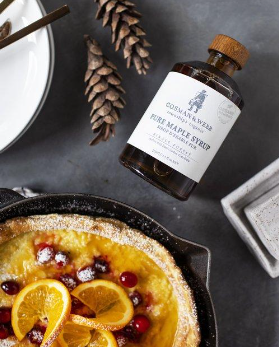 With holidays and fall gatherings upon us, I wanted you to experience this fabulous Dutch Baby recipe from Cosman & Webb – it's absolutely delightful for breakfast or brunch and will impress your family and friends. Try it in our Recipe section. A big thank you to Marcella Dilonardo of Modest Studios for this recipe! And while you're checking out Marcella's website, look for her candied pecan recipe – just substitute the sugar with Cosman & Webb maple syrup – delectable! http://www.heymodestmarce.com/about I asked Sarah what she likes to make for her family and friends: "Coq au Vin. We love this meal in the fall and winter. It warms our house our bellies, and any leftovers go into pastry for Coq au Vin pie. With syrup: Candied Pecans. We always have a mason jar or two of homemade candied pecans on hand to add to salads and vegetable dishes. They also make a nice gift to give away around the holidays." I'm coming over for dinner Sarah!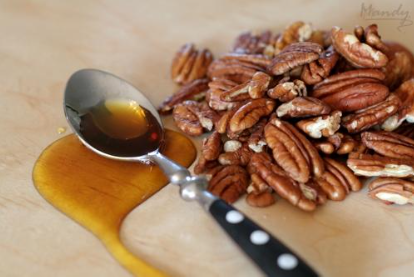 If you need a little inspiration of what to make with your phenomenal Cosman & Webb maple syrup, try these tarts that are always a big hit at our holiday tables: https://canadiancookbooks.ca/maple-syrup-butter-tarts/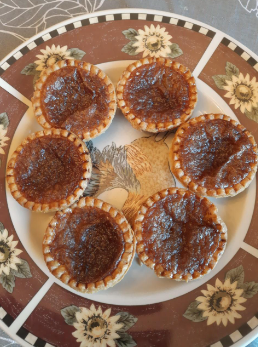 Now that I've whet your appetite, go to our Giveaway section and win a bottle of pure maple syrup as well as the maple sugar…your sweet tooth will thank you! To purchase some divine sweetness or to stock up on some wonderful hostess gifts, check out https://www.coswebb.ca/shop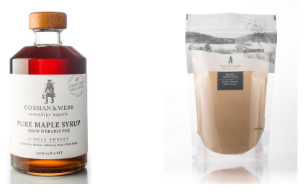 Contents and images used with permission by Cosman & Webb https://www.coswebb.ca/of-the-north/holiday-dutch-baby and Marcella Dilonardo http://www.heymodestmarce.com/about