Anime and Japanese food go hand-in-hand. Nadine Estero has brought these two worlds together in this cookbook that not only highlights food but marries each recipe with a matching anime character or scene. And if you're wondering if Nadine knows her anime, check out her social media pages that supports her knowledge and enthusiasm for the genre: 36K YouTube subscribers, 45K TikTok Subscribers, and over 69K Instagram followers. She showcases some wild and interesting food creations inspired by not only anime but other worlds as well. https://www.instagram.com/issagrill/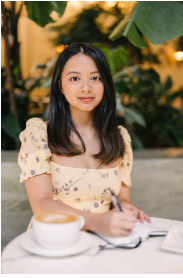 To see foodie readers' take on this cookbook, check out one of my favourite book review sites: https://www.goodreads.com/en/book/show/59802079 Nadine gets heaps of kudos for both the food and content in the book.
I love some of the recipe names Nadine has come up with – truly creative:
●Haikyuu!! steamed pork buns
●Food Wars! soufflé omelet
●Isekai Izakaya pork katsu sandwich
●My Hero Academia cold soba
●March Comes in Like a Lion pampered udon
●Dragon Ball Z meat lover's meat feast
●Kiki's Delivery Service chocolate cake
●Your Name strawberry pancakes with macarons
● Clannad starfish scones
● Laid-Back Camp hot buttered rum cow
I asked Nadine what inspired her to write this cookbook: "Teaching others and creating space for people to create memories is what inspires me, so when I was offered by my Publisher to write the book- I was ecstatic! As for the theme, Anime, I've watched anime growing up and my favorite genre of video games is JRPG which has anime-like-characteristics where food is usually involved to regenerate health (heal) characters. I found this to be the perfect opportunity to showcase my passion and calling, for a theme that is near and dear to me."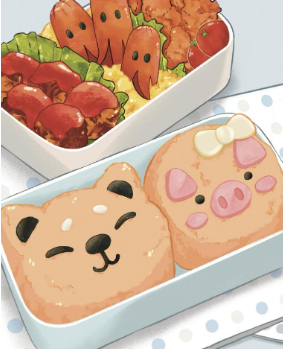 Go to our Recipe section and play with the Bento Box…you can mix and match what you put into the box depending on people's likes and what's in your pantry and fridge. I asked Nadine what she likes to make for family and friends: "Desserts are my favorite thing to make for families and friends! I find that desserts have a "wow" factor and really ends the night off in a memorable way. Cakes are particularly my favorite, as they can be decorated elaborately and be flavored in infinite ways. In the book, my favorite cakes are the Ouran Highschool Host Club: Strawberry Shortcake (with a cute bunny meringue decoration), and Kiki's Delivery Service: Chocolate Cake, that is made with four applications of chocolate. Which one I make depends on what flavor I'm feeling for that day 😊!"  To see some of Nadine's beautiful desserts, check out https://www.instagram.com/issagrill/
Know of an anime fan that also likes to cook? Order the book at Chapters or Amazon or go to our Giveaway section to win a copy. You'll have a ton of fun! We hope to see more of Nadine's creative work either online or in print!

Contents and images used with permission by Nadine Estero. https://www.instagram.com/issagrill/