from Noah Cappe
Chocolate Cake
2 cups all-purpose flour
2 cups sugar
3/4 cup unsweetened cocoa powder
2 teaspoons baking powder
1 1/2 teaspoons baking soda
1 teaspoon salt
1 cup milk
1/2 cup vegetable oil or canola oil
2 large eggs
2 teaspoons vanilla extract
1 cup boiling water
Preheat oven to 350º F. Prepare two 9-inch cake pans by spraying with baking spray or butter
Mix ingredients
Bake 30-35 minutes until cooked through
Chocolate Butter Cream Icing
3 generous cups icing sugar
1 stick or half a cup of soft butter
1/4 teaspoon of salt
2 tablespoons of vanilla
3 tablespoons of cocoa powder cream as required add very carefully a little at a time
Blend all ingredients until smooth. Cover entire cake with icing.
Swiss Rolls
12-14 Swiss rolls cut into 1" discs
Starting at the bottom, place discs with swirls facing out around the entire cake. Continue placing discs by rows until you reach the top and place discs, swirls facing up, on the top of the cake.
Contents and images used with permission by Noah Cappe.  http://noahcappe.com/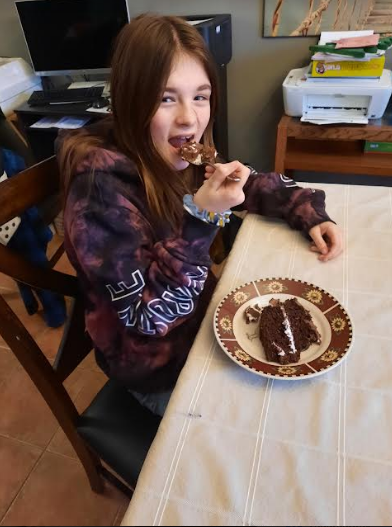 Nada's Tips & Tricks:  Don't want to bake from scratch?  Purchase a boxed chocolate devil's food cake and follow instructions on box.  Purchase ready made chocolate icing. Not quite the same as the homemade instructions above, but the Swiss rolls will still make a spectacular presentation.  I've also seen a recipe for using the icing given here for the filling between the layers, then pouring chocolate ganache all over the cake before adding the Swiss rolls.  Whichever way you go with this dessert, it'll be a HUGE hit with your chocolate lovers!