While we wait for Carnival parades this summer, we can celebrate other carnivals around the world like Mardi Gras in New Orleans and Port-of-Spain in Trinidad and Tobago, both being held this week.
We met author Yolanda Marshall when we took a peek at her book, "A Piece of Black Cake for Santa" in December – check it out at https://canadiancookbooks.ca/a-piece-of-black-cake-for-santa-2/ Now we take a peek at her book, "C is for Carnival", a look at the celebrations throughout the Caribbean where dressing up in colourful costumes while dancing to Soca and Calypso music. A beautiful display of characters jump off the page while we learn about the history and culture of Carnival.
Yolanda brings us a story in rhyme while illustrator Darla Lavrova paints beautiful displays of colour and people enjoying their annual party! I asked Darla what her inspiration was to bring these beautiful illustrations to life:
"I live in Amsterdam and it has a festive spirit, where people from all over the world come to visit, to work, to party, etc. It is also very tolerant and open. So I can imagine (and what I was trying to portray) the sphere of a carnival.
Also my experience working at the animation studio helped me in capturing a dynamic composition (the animation requires a certain exaggeration of poses, gestures and it has become a part of my style), this "popping up effect" when the figures should be really moving on a page was very much applicable when drawing such a super-event as carnival, considering that the culture of Caribbean people itself is so vivid and bright.
I've studied the costumes, the colours, I have watched videos about the carnival, the moves of marching bands. It was a very fascinating project for me." Don't you just love to get this insight into the development of a book? Check out Darla's other inspiring work at https://lavr.name/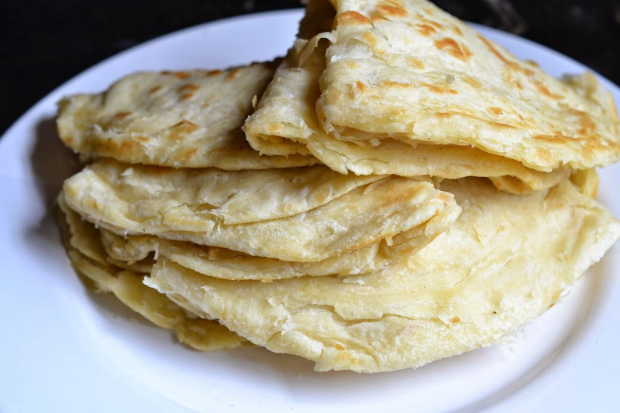 The book includes a recipe for Paratha Roti by Chef Monique – https://nowyourecooking.ca/recipe/paratha-oil-roti/ – a popular and familiar bread that's eaten with everything in the Caribbean. Check it out in our Recipe section and then enjoy it with a sloppy sauce or use it to house your favourite filling. The Indo-Caribbean people introduced this to the region from India. If you need some assistance with making Roti, check out Chef Monique's step by step instruction:  
To purchase a copy of the book, go to https://www.ytmarshall.com/yolanda-marshall-books or win a copy in our Giveaway section!

Contents and images used with permission by author Yolanda T. Marshall. https://www.ytmarshall.com/