from Foodshed
This dish relies on the serendipity of cool, unctuous yogurt and perfectly ripe fruit. Use fresh fruits and berries in summer; in winter, try poached pears and rehydrated dried apricots or cherries.
Serves 4
Ingredients
Yogurt Cream
3 cups (750 mL) yogurt (choose a gelatin-free brand)
2 Tbsp (30 mL) honey or maple syrup
½ tsp (2.5 mL) grated orange zest
½ tsp (2.5 mL) grated fresh nutmeg or cinnamon
Fruit
2 cups (500 mL) fresh strawberries or other ripe fruit
Sauce
2 Tbsp (30 mL) maple syrup or honey
1 Tbsp (15 mL) butter
1 tsp (5 mL) cracked green peppercorns (dried, not brined)
1 Tbsp (15 mL) orange liqueur
3-4 oz (90-125 mL) orange juice
½ cup (125 mL) whipping cream
Instructions
Drain yogurt for 45 minutes through a fine sieve lined with a damp kitchen towel. Discard the whey. Add honey or maple syrup, zest and nutmeg or cinnamon. Spoon yogurt into wine glasses. Slice strawberries into halves or quarters. Divide among the glasses. Set aside while you make the sauce.
Heat maple syrup or honey and butter in a small saucepan to a boil, add green pepper, orange liqueur and orange juice. Reduce by half, boiling to evaporate, then add cream and return to the boil, reducing by half again. Divide the hot liquid evenly overtop the fruit in the wine glasses.
Serve hot or warm.
Nada's Tips & Tricks: A refreshing start to your day or to end a heavier meal. Get out and explore your local farmer's market to pick up whatever fruit is in season – the taste will be more pronounced!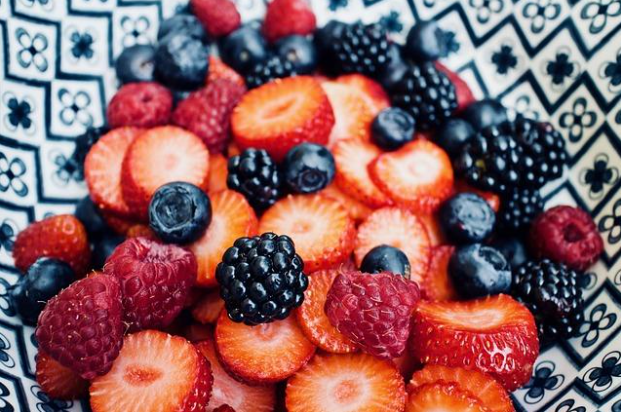 Recipe by dee Hobsbawn-Smith from Foodshed, copyright © 2012 by dee Hobsbawn-Smith. Reprinted with permission of TouchWood Editions. https://www.touchwoodeditions.com/