The Titanic met its demise on April 15, 1912 – 110 years ago.  Much has been written about its shipwreck and movies have had great box office success, all centered around this historical event.  Taking all that interest and looking at it from a culinary perspective was the brainchild of Yvonne Hume, great-niece of John Law Hume – the first violinist on the Titanic.  Not only did she write a biographical novel on John's life, but is herself an avid chef with many restaurants in England to her credit.  She brought those two worlds together in this book: Titanic: The Cookbook.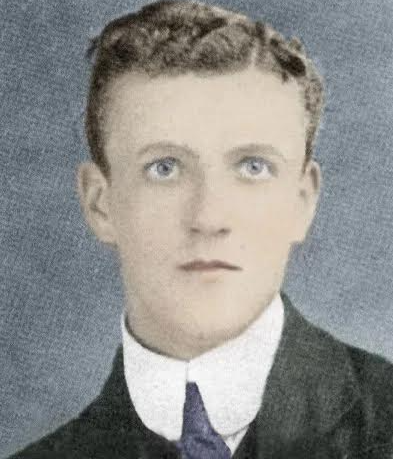 Having assistance from two Canadian writers and cookbook authors, sisters Elaine Elliot and Virginia Lee ensured the recipes in this book made sense in Canada's kitchens. But this book is more than pages of recipes…it includes everything you need to replicate an Edwardian-era dinner party from party invitation templates, napkin folding instructions, drinks from that period and creating an authentic menu.
Virginia Lee is the author and co-author of many cookbooks celebrating Maritime cuisine. She is a native Nova Scotian and now divides her time between Lower Canard, Nova Scotia and Memphis, Tennessee. http://www.formacpublishing.ca/Contributor/1406/Virginia-Lee.html
Elaine Elliot is a food enthusiast who has spent countless weekends seeking out new and exciting food ideas at fine restaurants and inns. Her Flavours series includes 12 titles, ranging from Maple Syrup to Lobster. With her sister Virginia Lee, Elaine is also the author of the bestselling Maritime Flavours Guidebook & Cookbook. She lives in Kentville, Nova Scotia. http://www.formacpublishing.ca/index.php?page=person&author_id=1405&v=g
Pictures of the authors were difficult to find so I took a snap of the back flap of the book. I like to put faces to the people who bring us these wonderful recipes so here they are: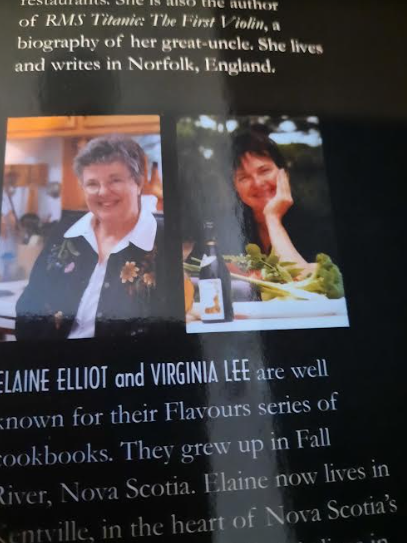 I asked Elaine for some background on how it came about that she and her sister would contribute to this colourful and tasty cookbook:
"For the past 30 some years Virginia Lee (my sister) and I have worked
with James Lorimer Publishing, Toronto and Formac Publishing, Halifax writing over 25 cookbooks, all featuring Canadian cuisine with the exception of the Titanic one.
"Actually, that book was compiled by Yvonne Hume of Britain and she sold the rights to Jim Lorimer with the knowledge that his team of two writers would adjust it to modern times. The book came out on the 100th anniversary of the great ship's sinking – designed to be a memento of the event.
"Let's be honest…these are very English recipes and you chose well to feature the Honey Roasted Salmon recipe. When I first read the manuscript, I realized that had I been onboard, I would have only been interested in the 1st class menu!"
To make your own ship-worthy salmon dish, go to our Recipe section. It's a dish that can easily be made for weeknight dinners or fancy it up to serve special guests. I asked Elaine what she makes most often for family and friends:
"When I entertain, I like to choose dishes that can be prepped in advance. I have a beautiful salmon fillet recipe stuffed with mushrooms and spinach which prepares in advance, is rolled jelly roll style and encased in foil – to be popped in the oven for 20 minutes, sliced in medallions and plated with Hollandaise Sauce. Very easy peasy."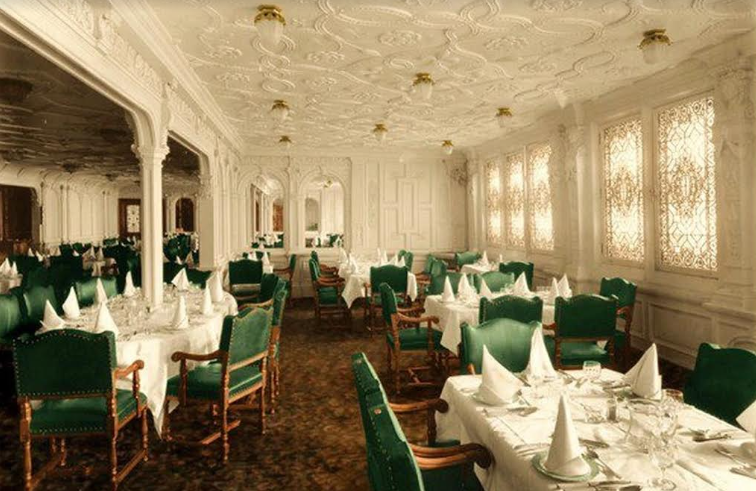 To win a copy of Titanic: The Cookbook, go to our Giveaway section. You can also purchase the book at http://www.formac.ca/Book/2458/Titanic-The-Cookbook.html
Contents and images used with permission by Formac Publishing Company @2012 and authors Yvonne Hume, Elaine Elliot and Virginia Lee. http://www.formac.ca/Book/2458/Titanic-The-Cookbook.html