Calling all mermaids…here's a handy guide to living your best sea life! With a look at mermaid folklore in The Mermaid Handbook, we learn about the many countries that have their own spin on this sea creature. Apparently, there is a mermaid culture that includes beach etiquette, cultivating an ocean home, and embracing the joy and healthy lifestyle of a true mermaid. Readers around the world think so too as this lovely book won the Best in the World 2020 Gourmand Award, Paris in the Fish and Seafood category.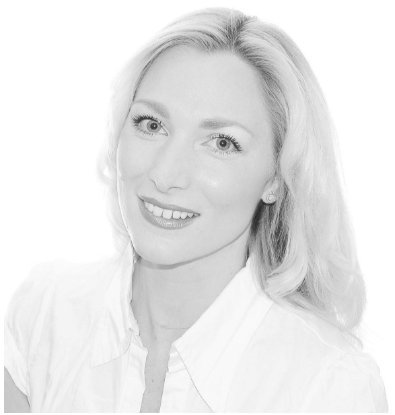 Author Taylor Widrig has had an extensive culinary and sea life career along with a lifelong mermaid obsession. We share the same experience of working in the Loblaws cooking school, but Taylor branched out to become a private yacht chef and then moved on to working in the fisheries and aquaculture industries. An expert on seaweed production, Taylor is sought after as a speaker at the United Nations on natural resource development and food security.
Taylor grew up around the ocean in Nova Scotia and in regions full of ghost stories, folklore, and indigenous legends. The inspiration came from a love of mermaids, who love to eat seaweed, and who often enjoy cooking healthy meals, gardening, and frolicking at the beach. This book was also intended to teach readers how to be more comfortable using seaweed and all their amazing attributes, and to honour the mermaids throughout our history and what it means to be one.
I was particularly interested in Taylor's childhood where she spent time in a Doukhobor community (having a Russian heritage myself). She learned about the vegetarian lifestyle and exploring the world of cheese on an organic dairy farm. And so her love of healthy eating began!
The Mermaid Handbook highlights a whole chapter on Taylor's area of expertise, seaweed. From the historical sourcing of this delectable ingredient to the many varieties of seaweed and how to use them, you'll be well equipped to include seaweed in your next seafood presentation. This book includes other seafood and vegetarian recipes that will keep you wishing for a mermaid life.
Although spring is upon us and we're moving away from hearty comfort food, there's still some coolness in the air and Taylor's Salmon Lasagna with White Sauce and Spinach – look in our Recipe section – will ensure your guests are well fed while enjoying the freshness of both salmon and spinach.
Taylor tells us that one of her favourite recipes is seaweed salad with steamed rice, but often she cooks day to day ingredients as is, simple, and minimally processed. "I often order gnocchi or salade niçoise if I see them on a menu. I also love making raw vegan cakes using soaked cashews as a cake base and a date, nut, and shredded coconut crust with the top two favourites being raspberry cheesecake and chocolate cream."
Taylor is presently working with Sustainable Develop which is an International Trade and Communications Agency focusing on sustainable development – look her up on www.sustainabledevelop.com and her Instagram author page is @taylorrayannewidrig I asked Taylor what she was working on these days: 'This time last year I was in Azerbaijan on behalf of the Heydar Aliyev Foundation and Global Center of Gastro Diplomacy. Several Gourmand Award Winners including Master Chef France and famous chefs from major culinary destinations of the world were invited to an International Culinary Festival in Susa, Karabakh, Azerbaijan. We toured the many beautiful historical sites of Baku city and were taken on a culinary tour of famous traditional cuisines and culinary experiences. I prepared cod fish cake Eggs Benedict with seaweed garnish to highlight Canadian ingredients. After studying International Relations and Public Relations courses online, and volunteering for organizations based in Switzerland in 2022 I was appointed to the role of "United Nations Representative in New York" for www.OIPMA.org". Check this out:
For all mermaid lovers, you'll be excited to see Taylor's new book. She gives us a little background on how this book came about: "Maame the Mermaid went to print in April 2023 with Ghanian publisher Education Logistics and is now on sale. This book was inspired by Maame from The Mermaid Handbook, the fisheries crisis in Western Africa, and Maame's mission to protect the ocean. Maame the Mermaid invites young readers into a story about endangered sea creatures of West Africa and what makes the ocean so important to Maame's community. This book also features educational information and activities and brings ocean conservation and environmental issues into awareness." Maame the Mermaid can be found at https://www.educationlogisticsgh.com – both you and your child will be inspired by this lovely tale.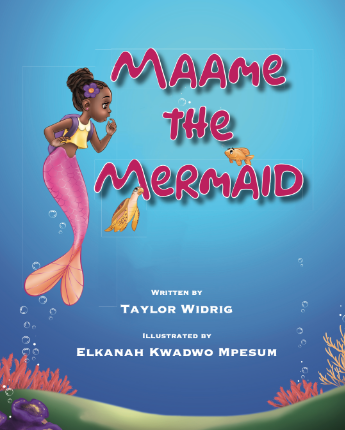 Have a mermaid-in-training in your life? You'll want to win a copy of The Mermaid Handbook in our Giveaway section or purchase it at https://nimbus.ca/store/the-mermaid-handbook.html – your sea-faring friends will appreciate your thoughtfulness!

Contents and images used with permission from Nimbus Publishing. Text copyright © 2020, Taylor Widrig. Artwork copyright © 2020, Briana Corr Scott https://nimbus.ca/store/the-mermaid-handbook.html