Chef Selwyn Richards provides us with the soul of the Caribbean through his culinary insights and recipes from the islands that bring so much flavour. My time in Ochos Rios, Jamaica was amazing, and I've tried duplicating the same flavours and dishes that contributed to a memorable vacation. Now I have this book in hand to ensure I get those flavours right!
Chef Selwyn has had a long and notorious role in the Canadian culinary landscape. Throughout his career, ensuring he brings his heritage and Caribbean influence into the professional kitchen, has been Selwyn's focus. His media presence has given him the unique pleasure of working with many celebrities, politicians and culinary professionals. https://chefselwyn.com/
Taking all that experience and knowledge and putting it between two covers ensures we have the best guide into the Caribbean food world. Selwyn provides us with products available in Canada to coax out authentic flavours, along with tips on how to eat healthy without giving up the heat, and menus to impress your family and friends at the next dinner party.
To introduce you to one of the Caribbean's most classic flavours, we thought you'd like to try Selwyn's Boneless Jerk Chicken in our Recipe section – simple, authentic and will quickly become your favourite. Raise or lower the heat level depending on who will be enjoying your island delights. You can make this chicken in the oven (for those cooler spring days) or break out the barbecue and start soaking up the sunshine and heat!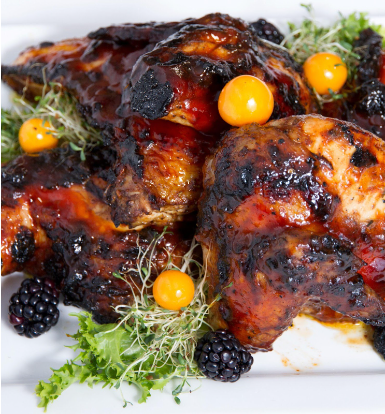 To win an autographed copy of the book, check out our Giveaway section. Know of a fellow island lover that will appreciate Selwyn's expertise? Purchase the book at  https://chefselwyn.com/product/the-art-of-cooking/
Contents and images used with permission by Chef Selwyn Richards. https://chefselwyn.com/