Author Laura Calder takes us on a culinary journey from her youth and throughout her food and entertaining experience. Starting as a little girl, she encounters the revolution of food from homemade scratch cooking and baking (making cakes with her mom) to the onset of packaged food and new appliances like microwaves (she really wanted that Easy Bake Oven!). Our parents must have shaken their heads as they watched a generation lose site of basic cooking and baking techniques to embrace food on the run loaded with ingredients that weren't natural or identifiable. https://www.lauracalder.com/
Each chapter has the author musing about the pros and cons of the number of guests around the table, to the real estate that "time saving" appliances take, and homage to the small tools of the kitchen trade that get no glory, and the role that dish washing takes within a family dynamic. Written with tongue in cheek and a smattering of humour, you find yourself nodding to the wry insights on the subjects Laura addresses.
https://twitter.com/LauraCalder/status/1280915226951659521
At the end of each chapter, Laura provides a few recipes spoken about in that segment. Many of them are easy with the entertaining cook in mind. Laura advocates that if you're in the kitchen cooking up a storm while your guests wait for your magic, you've lost the essence of entertaining. For example, in our Recipe section, Laura provides a beautiful, tasty plate for summer enjoyment with her Peaches with Prosciutto and Basil. Your guests will enjoy the fresh summer sweetness of the peaches juxtaposed with the saltiness of the prosciutto…perfection!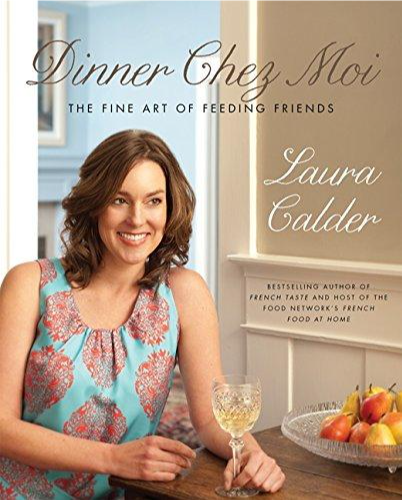 When you're finished this book and it tickles your culinary fancy, you'll want to check out Laura's other books and cookbooks. With a French theme, the author brings us into her cooking and entertaining world with a simple flair that is easy to duplicate while showing off your own delightful skills.
Kitchen Bliss is the perfect summer book – tuck it into your beach bag or head to the cottage with it under your arm – and enjoy the insights and reflections of an entertaining cook – I guarantee it'll put a smile on your face and a rumbling in your tummy. Get the book at https://www.lauracalder.com/books or win a copy in our Giveaway section.
Contents and images used with permission by Carine Redmond Public Relations. https://carineredmond.com/